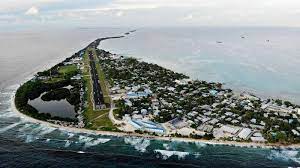 The Pacific region is uniquely vulnerable to worsening climate risks, which threaten to cause irreversible economic, social, cultural, and environmental damage.
This was stated in the Pacific Security Outlook Report 2022-2023 released by the Pacific Islands Forum Secretariat this week, highlighting key regional security issues and trends.
The report noted climate security issues where some Pacific Island countries had experienced up to four times greater sea-level rise than the global average; and that for low-lying atoll nations such as Kiribati, Tuvalu, and the Republic of the Marshall Islands, those risks were existential.
"Some of the most pressing climate change impacts in the Pacific are expected to include increased annual surface temperatures, sea level rise, saltwater intrusion, coastal erosion, and increased intensity of extreme weather events," the report stated.
"Collectively, these impacts are expected to increase water, land and food insecurity and undermine livelihoods and economic growth by hitting key sectors such as tourism, aquaculture, and agriculture, as well as straining infrastructure.
"Mobility pressures- both internal and external – are expected to grow, risking a shift in mobility from a force of resilience to one which exacerbates risks in certain localities."
The report stated that rising sea levels threatened to change maritime boundaries and the scope of Exclusive Economic Zones (EEZs), with potential knock-on effects on revenue from oceanic fisheries, territorial integrity and potentially statehood.
It stated that those effects seriously impacted the security of all Pacific peoples and were placing increasing pressure on social, traditional and government institutions at the community, national, and regional level.
In its two-year projection, the report stated: "We assess that global warming, reaching 1.5°C in the near-term, would cause unavoidable increases in multiple climate hazards and present multiple risks to ecosystems and humans."
"While near-term actions that limit global warming to close to 1.5°C would substantially reduce projected losses and damages related to climate change in human systems and ecosystems, compared to higher warming levels, such actions cannot eliminate them all risks.
"These now unavoidable risks will highly likely negatively impact the security of Pacific peoples."
The report stated that despite concerted national and regional climate change adaptation efforts, insufficient resourcing would mean slow-onset climate change impacts were likely to test social cohesion, economic and political stability and human security in the region.
Pacific leaders had recognised in the Boe Declaration on Regional Security that climate change is the "single greatest threat" to the security of the people of the Pacific.
SOURCE: FIJI TIMES/PACNEWS