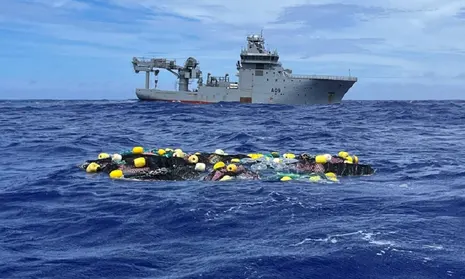 New Zealand authorities have found a record-breaking amount of cocaine floating in international waters, which they say was bound for Australia and would have been enough to supply the country for a year.
The 3.2-tonne haul was valued at NZ$500m (US$315m, AUD$456m). It was the largest seizure of illicit drugs made by New Zealand law enforcement "by quite some margin", the police commissioner, Andrew Coster, said at a news conference in Wellington on Wednesday.
A joint operation between New Zealand police, defence and customs agents led to the cocaine's discovery in the Pacific Ocean, where 81 bales of the drug were floating in nets in international waters six days' sailing north-east of New Zealand, the director of the police's national organised crime group, Greg Williams, said.
The quantity of the drug was enough to supply New Zealand for 30 years, which made it clear there was "no way" it was destined for that country, Williams said.
"New Zealand is not a cocaine market," he said. "We are tiny compared to Australia."
The discovery followed the start of an operation last December to identify and monitor the movements of suspicious vessels, run by New Zealand with help from its intelligence-sharing partners.
The cocaine was found earlier this month and arrived on Tuesday by ship under police escort into Auckland, where it will be destroyed.
No arrests have been made.
Williams said the strategy of the drug traffickers – to leave packaged drugs in international waters for pickup by other vessels – was widely employed.
"Cocaine floats," he said. "It's basically set up into nets … with flotation devices and the aim is for them to sit there and at some point, someone is going to come and get it.
"It's not uncommon. In recent times for instance, cocaine has washed up in Tonga."
But it was unusual for a such a huge quantity of a drug to be transported in one shipment, law enforcement agencies said. Crime syndicates were "testing the markets in different ways" after the usual global transport routes were jolted by the pandemic, the deputy comptroller of New Zealand Customs, Bill Perry, said.
The seizure was four times larger than New Zealand's previous record cocaine bust and would deal a "significant blow" to the international criminal group that dropped it at the floating transit point, Coster said.
Last March, a 700kg shipment of cocaine from South America was found at a New Zealand port, bound for another country. At the time officials said the seizure showed how international crime groups were seeking to use New Zealand to access other markets.
SOURCE: THE GUARDIAN/AAP/PACNEWS