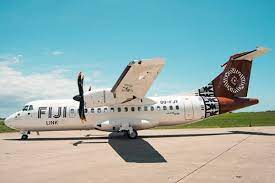 The Australian Government is assisting Tonga in its domestic air connectivity until at least 30 June 2023 in a partnership with Fiji Airways, the Australian High Commission announced Friday.
The Australian Government offered immediate support to the Government of Tonga in response to recent challenges to Lulutai Airways' aircraft and disruptions to air travel.
A Memorandum of Agreement was signed by the Australian Government confirming their assistance to Tonga by providing flights for the Tongatapu-Vava'u route.
The Chief Executive Officer of Lulutai, Poasi Tei and the Australian High Commissioner, Rachael Moore signed the operational agreement.
Australia will also provide financial assurances for Lulutai to partner with Fiji Airways to operate up to seven flights a week between Vava'u and Tongatapu during this month.
"It also plans to continue these arrangements for this critical connectivity until at least 30 June 2023, while Lulutai's fleet undergoes maintenance. Last week, Australia and Tonga worked quickly on a similar arrangement which enabled the restoration of flights between Tongatapu and Vava'u on 30 January."
Rachael Moore said the Australian Government is committed to a well-connected Pacific, underpinned by safe and reliable aviation services.
"We acknowledge that air services are critical for Tonga. Aviation is essential for economic recovery by generating trade, promoting tourism, creating employment opportunities, as well as for keeping families connected."
Prime Minister Hu'akavameiliku Siaosi Sovaleni also worked closely with Australia to negotiate this arrangement and he thanked Australia for its responsiveness.
"We thank the Government of Australia for this response, and for their ongoing support to Lulutai to support a strong and sustainable domestic airline," he stated.
Australia is providing technical advice to Lulutai to develop a long-term business plan. In recent months, Australia has supported Lulutai Airlines to access critical training for pilots and engineers to ensure Tonga's domestic routes are safely serviced.
Moore said Australia will also continue to facilitate opportunities for training and ground support equipment and aviation weather infrastructure to support uplift capability and efficiency.
At the same time, Australia's Head of the Office of the Pacific, Ewen McDonald also visited Tonga last week.
Hu'akavameiliku and McDonald agreed to Australia's support for Fiji Airways to fly domestic routes in Tonga until June to assure immediate and ongoing domestic connectivity, and long-term work with Lulutai Airlines to support Tonga's aviation sector.
They also discussed the longstanding policing partnership between the Australian Federal Police and Tonga Police and Australia agreed to provide support for Tonga Police's capabilities and infrastructure.
Australia also announced support for Tonga Police's critical maritime capabilities. Australia and Tonga are committed to working together to ensure the Kingdom is well equipped to meet security challenges including transnational crime and drug trafficking.
PM Hu'akavameiliku and McDonald discussed Australia and Tonga's shared priorities for the region as the Pacific family faces an evolving security environment, including climate change.
McDonald congratulated Tonga on its new role as host of the Pacific Community's first Polynesian Sub-Regional Office. Australia has offered to support Tonga as it takes on these leading roles, the statement said..
SOURCE: TONGA WIRES/PACNEWS