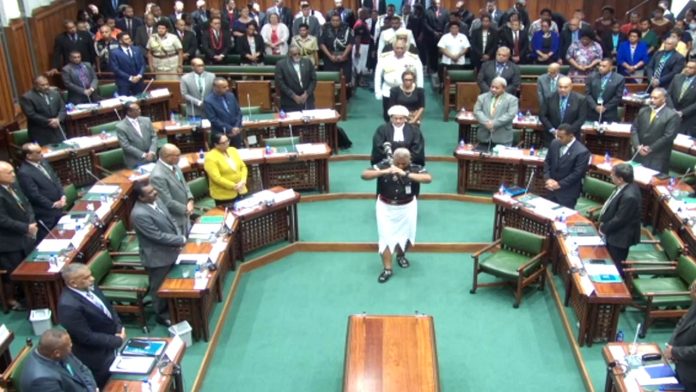 Members of Fiji Parliament can pray in their own faith and speak in their own language if they choose to.
Speaker of Parliament Ratu Naiqama Lalabalavu said the decision to waive Standing Orders 28, 29, and 30 was voted upon during the Business Committee meeting last Friday.
Ratu Naiqama said this change will allow the Speaker to pray the way he wants to pray and not be offended if someone wishes to pray the way they want to pray.
"To enable the honourable members of parliament to speak in the Vosa-Vakaviti or Hindi language apart from English so as to allow them to express themselves fully and make meaningful contributions on issues of national importance."
The English translations will be reflected in the Hansard report.
Meanwhile, President Ratu Wiliame Katonivere officially opened parliament Friday.
The President said the nation chose its government when Fijians voted last December, and the onus is now on the People's Coalition government to uphold the rule of law and the constitutional doctrine of separation of powers.
Ratu Wiliame said there was a peaceful transfer of powers from the FijiFirst government to the People's Coalition government.
"There must be a clear focus on the rule of law and the democratic processes, including transparency, accountability, respect for human rights and freedom, and listening to the views of the people through genuine consultations."
The President urged the government to listen to the voices of those who voted them in.
"The views of all members of the community must be heard and I urge the People's Coalition government to ensure all initiatives and draft legislations must undergo thorough consultation process for better outcomes to ensure inclusiveness and foster greater ownership."
Parliament has been adjourned and will reconvene Monday 13 February.
SOURCE: FBC NEWS/PACNEWS