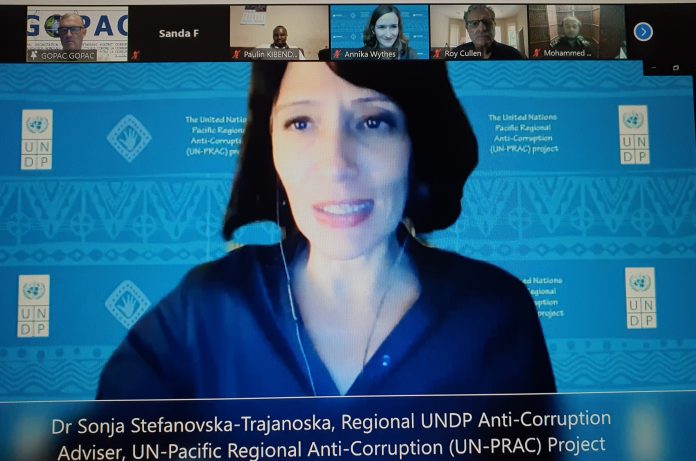 Pacific countries have the opportunity to bring their strong regional commitments on anti-corruption to this week's United Nations Special Session of the General Assembly (UNGASS) with online and in-person participation for 187 countries beginning on 02 June, New York time.
The United Nations Pacific Regional Anti-Corruption (UN-PRAC) Project has been working with Pacific countries since early 2020 to develop the Teieniwa Vision as a regional commitment statement. Following its adoption by nine leaders and representatives at the first-ever Pacific leaders' anti-corruption meeting hosted by the Kiribati Government in February 2020, all 18 Pacific Islands Forum leaders adopted the Teieniwa Vision as the regional roadmap at the Leaders Forum in February 2021.
"The UNGASS 2021 is the new global impetus to address anti-corruption gaps and challenges through more synergies and innovative solutions. The UNGASS political declaration is likely to very much resonate with the Pacific Teieniwa Vision and is an opportunity for the Pacific countries to reinvigorate their anti-corruption commitments firmly anchored to the United Nations Convention against Corruption (UNCAC) and Sustainable Development Goal 16 on peace, justice and strong institutions," said Levan Bouadze, Resident Representative of the UN Development Programme (UNDP) Pacific Office in Fiji.
"After 15 years of implementation of UNCAC, to which all 14 Pacific Island Countries are State parties, the UNGASS Political Declaration will reaffirm our common commitment to end impunity for corruption offences and shape the global anti-corruption agenda on how to prevent and fight corruption and to strengthen international cooperation going forwards," said the Deputy Regional Representative for Southeast Asia and the Pacific of the UN Office on Drugs and Crime (UNODC) Julien Garsany.
The UNGASS recognises the need for a whole-of-society approach to tackling corruption and UN-PRAC has supported pre-UNGASS engagement plus side event involvement by Pacific youth, media and parliamentarians.
Solomon Islands' youth integrity entrepreneur Millicent Barty, a keynote speaker at the UNGASS Youth Forum side event, saw the online meeting of 1,000 world youth as an excellent opportunity to weave in our Pacific youth voice into international youth engagement in combating corruption.
"I could carry the "My Integrity is NOT for Sale" message from our small corner of the world and shed light on Pacific youth when it comes to ethical consumption choices, exercising businesses with integrity, and how we can explore and harness mentorship as a tool to encourage more young people to join the fight against corruption," said Barty.
The UN-PRAC Project is a joint initiative by UNODC and UNDP supported by the Australian and New Zealand Governments.
SOURCE: UNPRAC/UNDP/PACNEWS