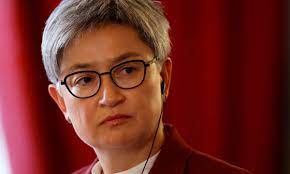 -The Australian foreign affairs minister, Penny Wong, is calling on all countries to play their part to prevent a "catastrophic" war in the Indo-Pacific region.
Amid increasing tensions between the U.S and China, Wong warned in London on Tuesday that the region was becoming "more dangerous and volatile".
She also welcomed the UK's increased involvement in the Indo-Pacific despite the ongoing focus on the conflict in Ukraine, saying the UK's stance recognised that a war in the region would have far-reaching impacts across the globe.
"If conflict were to break out in the Indo-Pacific, it would be catastrophic – for our people and our prosperity," Wong told an audience at King's College London.
She argued that it was "up to all countries to ask ourselves how can we each use our national power, our influence, our networks, our capabilities, to avert catastrophic conflict".
Wong urged China to accept an offer from the US president, Joe Biden, to put in place "guardrails for strategic competition" – essentially agreeing on some broad limits to prevent their increasing tensions from spiralling out of control.
"I have put Australia's view on this directly to my Chinese counterpart, when I made the first Australian ministerial visit to China in three years just before Christmas," she said.
Wong and the defence minister, Richard Marles, join their British counterparts James Cleverly and Ben Wallace for annual high-level talks this week.
In addition to the response to the war in Ukraine and rising tensions in the Indo-Pacific, the ministers are expected to agree to elevate cooperation in areas such as climate and clean energy, cybersecurity, critical technology, and countering disinformation.
Wong said the Australia government was strengthening its longest-standing relationships – including with the UK and the US through the Aukus security deal – but it also wanted to forge closer ties with countries across the region.
She acknowledged that Australia had "not always listened to the countries of south-east Asia and of the Pacific as carefully as we could have" but said the Albanese government had been working to change that.
The minister said she had visited 24 Indo-Pacific countries in her first six months in office. She said the government was taking an approach "that puts listening above lecturing" and looking for common ground on issues including climate, infrastructure, food security and economic development.
Helping countries alleviate poverty was "the right thing to do" but also would increase security because "stability and prosperity are mutually reinforcing", Wong said.
Australia respected the sovereignty and the agency of the countries of the region, she said, so it would not "force people to choose sides" in the great power contest between the US and China.
Instead, the government's approach "asks people to choose what sort of region they want and asks them to work with us on achieving that together".
Wong also argued that both Australia and the UK could increase their diplomatic influence by telling their modern multicultural stories.
"Today, as a modern, multicultural country, home to people of more than 300 ancestries and the oldest continuing culture on earth, Australia sees itself as being in the Indo-Pacific, and being of the Indo-Pacific," she said.
Wong, who was born in Malaysia, reflected on experiences of British colonisation. She said her father was descended from Hakka and Cantonese Chinese, and many from those clans "worked as domestic servants for British colonists, as did my own grandmother".
She said such stories "can sometimes feel uncomfortable" but understanding the past enabled leaders to better shape the present and the future.
"It gives us the opportunity to find more common ground than if we stayed sheltered in narrower versions of our countries' histories," Wong said.
She said her travels across the region had "rendered crystal clear that one of the most important ways our countries can modernise our relationships is in the story we tell the world about who we are".
Since the change of government last May, Australia has sought to "stabilise" its turbulent relationship with China through a change in "tone" and a series of high-level meetings, including a planned video call next week between the trade and commerce ministers.
But the Australian government also says it has not made any policy concessions and it is close to finalising plans with the U.S and the UK to acquire nuclear-powered submarines.
Wong said investment in military capabilities was "essential for deterring conflict and maintaining a strategic balance in the Indo-Pacific". But she cautioned that this was only one part of Australia's strategy and called for a continued focus on diplomacy, economic openness and upholding rules.
Her call for a broader strategy was echoed by the commandant of the U.S Marine Corps, Gen David Berger, during a visit to Australia.
Berger told reporters in Canberra on Tuesday that China was trying to advance its national interest "without tripping the wire to open conflict" so the US and its allies needed a cohesive approach.
"I think this drives you towards not just a military approach to deterrence – it has to be across government and between our governments or it's not going to be enough," Berger said at an event organised by the Australian Strategic Policy Institute.
"A military approach alone is not going to – I don't think it's going to achieve our strategic goals."
Referring to China, Berger added: "You're operating against the whole of government on the other side.".
SOURCE: THE GUARDIAN/PACNEWS