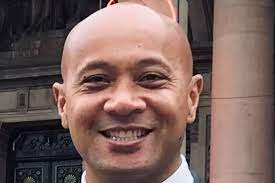 Oceania Rugby (OR) has announced the appointment of Frank Puletua as its new General Manager (GM) following a global search and unanimous endorsement from the Oceania Board.
Puletua joins OR following over 10 years at the National Rugby League (NRL), most recently as the GM International Strategy & NRL Awards since May 2018.
Puletua has a deep understanding of sport and an appreciation of Rugby as a global game having played in his youth. Progressing to become a professional NRL rugby league player who had the honour of representing the Penrith Panthers and South Sydney Rabbitohs over 13-seasons in the NRL.
A commercially-minded executive who has led the development and delivery of several successful programs, events and initiatives for the NRL. Having worked closely with the International Rugby League Federation and ASIA Pacific Rugby League Confederation on reforms for improved governance and operational standards across member nations.
Puletua also led the co-development of the NRL's first ever Pasifika strategy designed to support the pacific players within the game. Including the delivery of an annual Pacific Test program (2013 – 2022) which included securing significant sponsorship and government investment.
Puletua is excited to bring this experience to grow and develop Rugby in the region.
Having been a professional athlete, working across high performance and development positions, Puletua is well positioned to supercharge OR.
OR President Richard Sapias said that Puletua was the perfect candidate with a balance of development, high performance, commercial and critically cultural awareness demonstrated through his previous roles.
"Frank is an outstanding sports administrator and has a genuine passion for developing Rugby in the region. He addressed each and every one of the selection criteria that the board wanted to see with the appointment of our new GM.
"He brings significant and relevant experience from the NRL and will be an amazing asset not only to OR and its members but to World Rugby as we look to take a leadership role in the future of the sport globally. With Rugby Australia hosting the 2027 and 2029 Rugby World Cups he will bring a fresh lens on how this can be leveraged to grow Rugby in the region for generations to come".
"Frank has an exciting vision aligned with World Rugby to advance rugby as a global sport for all – true to its values. Growing rugby by making it more relevant and accessible through being an effective, innovative and empowering regional association.
"I am really pleased to welcome Frank to the OR family and look forward to working with him on continuing to grow and develop Rugby in the region.2
"I would also like to thank Interim GM Wayne Schuster for his service this year. Wayne accepted the interim role at short notice and has continued to advance rugby whilst delivering the competition and event calendar," Sapias said. Schuster will now resume his role as Competitions Manager.
Incoming GM, Frank Puletua said: "I'm extremely excited to accept the position of GM of OR and can't wait to get started in the new year.
"We have a great opportunity to develop a new strategic plan in 2023 for the next cycle 2024-2027. Deepening our partnerships with governments and non-government organisations across the region. We have a number of significant competitions and events which my focus will be on understanding these assets and identifying commercial partners that will help us accelerate toward achieving our objectives.
"I'm looking forward to meeting and engaging with each of our members, our key partners and staff as we continue Rugby's growth at the grassroots level, as well as amongst our Pacifica fans and participants. I believe we can unlock new commercial opportunities, enhancing member union relationships, delivering a region that provides clear pathways from the local communities to regional competitions, global 7s events and World Cups," Puletua said.
Puletua will join OR from 01 February 2023.
SOURCE: OCEANIA RUGBY/PACNEWS