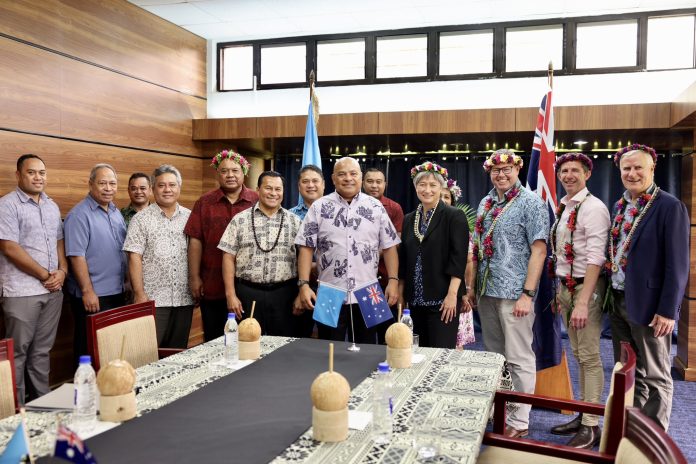 The former Australian Coalition government's failure to set more ambitious climate change targets hurt Australia's standing in the Pacific, senior Liberal Simon Birmingham has conceded.
Wrapping up a four-day visit to the Pacific region as part of a bipartisan delegation led by Foreign Minister Penny Wong, Senator Birmingham, now the party's foreign affairs spokesman, said it was important that the Coalition learnt the lessons from its election defeat.
"What's clear to me from the few days that I've had from engagement with Pacific leaders … is that it is critical for us to listen carefully and attentively to our Pacific partners, and not just to listen, but to ensure that we act in concert with them," Senator Birmingham said at a joint news conference with Senator Wong and Palau's President Surangel Whipps jnr.
Following the election defeat, Opposition Leader Peter Dutton signalled that the Coalition would take a higher target than the 28 percent reduction in emissions by 2030 set by the Morrison government, and is developing policy around nuclear energy. Labor has enshrined a 43 percent target.
Former prime minister Scott Morrison argued that his government did not need to set a higher target because Australia was probably going to hit 35 percent anyway.
But Senator Birmingham, the most senior moderate, said: "When you're clearly on track to exceed targets, it makes sense to raise and to elevate those targets. And that probably should have occurred at an earlier stage."
He said fighting over climate change meant positive stories about Australia's efforts, such as record investment in renewable energy, had not been heard clearly in the region.
"And when it comes to domestic politics, ensuring that the voices that we hear from the Pacific are heard, and then we say the same things at home as we say here, is equally critical in that regard," he said.
Speaking to Sky News, Prime Minister Anthony Albanese said the former government had alienated the Pacific region because of its stance on climate change.
"The entry fee for credibility in international relations in this century is action on climate change," he said.
During its trip to Palau, the delegation visited a solar farm that received $31 million (US$21 million) in Australian government financing.
SOURCE: AFR/PACNEWS