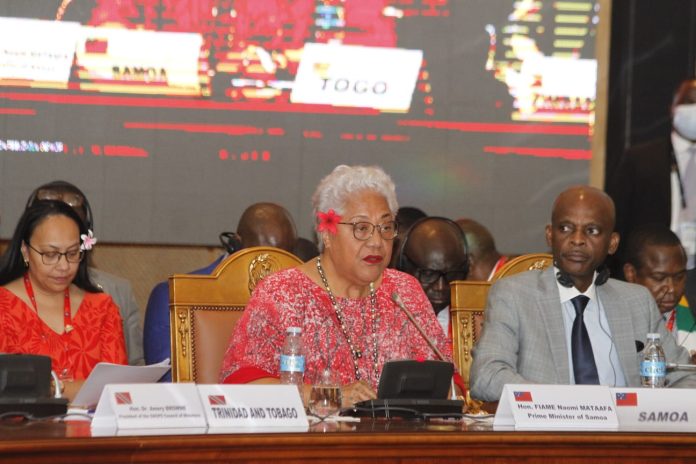 By Pita Ligaiula in Luanda, Angola
Samoan Prime Minister Fiame Naomi Mata'afa has stressed the importance of 79 member states of OACPS in finalising the signing of the Samoa Agreement.
The pact was initialled in April 2021 but remains unratified, 20 months after negotiations concluded between the European Union and African, Caribbean and Pacific(ACP) States.
The special relation that the  Organisation of the African, Caribbean and Pacific States (OACPS)share with the European Union, governed by Cotonou Partnership Agreement to be soon replaced with the new SAMOA Agreement.
"OACPS has enjoyed a long standing partnership with the EU, for example, and we stress the importance of finalising the signing of the Samoa agreement in Samoa before the end of June, next year.
"The Blue Pacific signing of this agreement and its effective implementation, must be a priority for OACPS and EU," said PM Mata'afa while addressing the 10th Summit of the OACPS Head of State and Government Friday in Angola.
Meanwhile, Samoa's top diplomat Peseta Noumea Simi told the preparatory meeting of the OACPS Council of Ministers Thursday, the Pacific nation wishes for the Leaders Summit to reaffirm the OACPS decision for a Blue Pacific signing in Samoa, including for the agreement to be named the Samoa Agreement.
"Samoa is ready to welcome you all for the signing before June next year.
"We must emphasise to our EU partners the concerns of the OACPS of this delay because the credibility of this longstanding partnership is at stake.
"We also stress to all OACPS members to start preparing your own internal process to ensure that we can all move into full implementation mode once the Samoa Agreement signing goes ahead.
"We must also be proactive in looking at the mobilisation of resources, and finalising the institutional arrangements that will help us implement and realise the potential of this new partnership agreement," said Noumea Simi.
Noumea Simi said she look forward to the implementation of decisions from the 115th OACPS Council of Ministers on the next steps to explore with EU side, to hopefully resolve this issue.
"We look forward to the follow up of some of those decisions including on the signing of the Samoa Agreement.
"The report before us provides a faithful account of the lengthy negotiation process which took more than two years and resulted with the current OACPS-EU partnership agreement text that our chief negotiators initialled last year.
"I just wish to stress chair and members of this Council, the importance for us to be proactive in trying to help the EU come up with a solution to allow us to proceed with the signing next year,"  she emphasised.
SOURCE: PACNEWS