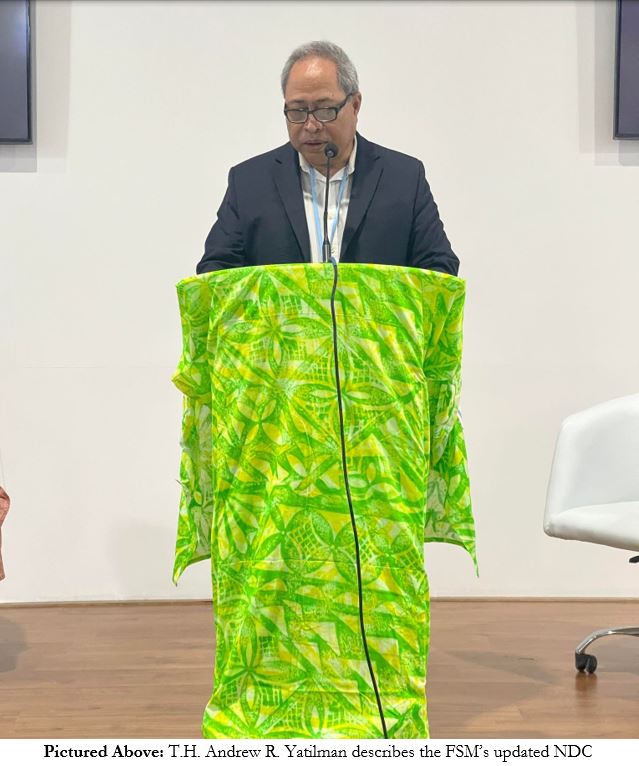 The Government of the Federated States of Micronesia (FSM) has formally announced the submission of its updated Nationally-Determined Contribution (NDC) under the Paris Agreement on Climate Change.
NDCs are non-binding national plans highlighting Climate Change mitigation and adaptation, including Climate-related targets for greenhouse gas emission reductions, policies, and measures to implement in response to Climate Change, and as a contribution to achieve the global targets set out in the Paris Agreement.
The FSM's updated NDC outlines an ambitious plan to achieve 100 percent access to energy for the Nation's citizens by 2030, of which 70 percent will come from renewable energy, growing to 85 percent by 2040. This will yield a 65 percent reduction of CO2 emissions below the levels measured in the year 2000 from electric power generation, including an 80 percent reduction of fossil-fuel based electricity. Achieving these targets would firmly establish the FSM as a global leader on renewable energy.
New to the FSM's updated NDC is an economy-wide focus, including continuing reductions of short-lived Climate pollutants like hydrofluorocarbons (HFCs), Black Carbon, and Methane; thorough rehabilitation and Climate-proofing of the Nation's roads, seaports, and airports; sustained and integrated ecosystem protection, including effective management of the Nation's marine and terrestrial resources; and major improvements to food security, water security, and public health.
In total, the FSM's updated NDC significantly spans eight core economic areas: Energy Security, Short-Lived Climate Pollutants, Transportation, Food Security, Water Security, Public Health, Ecosystems Management, and Emergency Management & Response. Climate adaptation plans and needs are prominent throughout.
"To read our NDC is to understand how our future in the FSM, as in all Small Island Developing States, is deeply intertwined with Climate Change," said Andrew R. Yatilman, Secretary of the Department of Environment, Climate Change, & Emergency Management. "Our near-term priorities, our medium-term plans, and our long-term opportunities—all of these are enormously shaped by Climate Change."
During his formal remarks at the 27th Conference of Parties of the United Nations Framework Convention on Climate Change in Sharm El-Sheikh, Egypt, Secretary Yatilman emphasised that implementing the updated NDC will require consistent support from the Nation's development partners.
"We hope this updated NDC serves as a gateway for future cooperation on achieving our ambitious goals," Secretary Yatilman said. "Taking ambitious action to reduce emissions and build resilience to the impacts of Climate Change is the best way for the FSM to unlock its opportunities for economic development."
The FSM National Government strongly encourages the Nation's citizens, residents, and friends, allies, and development partners to become acquainted with the updated NDC.
SOURCE: FSM GOVT/PACNEWS