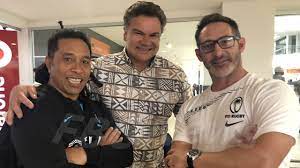 Former All Blacks flanker Sir Michael "Iceman" Jones believes the Fiji 7s team can still achieve a lot despite falling short at the Hong Kong 7s.
Sir Jones met the Fiji 7s team at the Nadi International Airport Tuesday and gave the players some words of encouragement for the upcoming tournaments.
"It's not how you start its how you finish and for these guys they are on a journey but also if you are faithful in the little things you will get the big things so it's the small things the difference between good and great and doing the little things and that's all I shared with them."
Sir Jones also wished the team well for the remainder of the series.
The Iceman is in the country for some business.
The 57-year-old was named by Rugby World magazine as the third-best All-Black of the 20th century after Colin Meads and Sean Fitzpatrick.
Meanwhile, Fiji 7s coach Ben Gollings says they will now have to build from their defeat in the Hong Kong 7s final.
While arriving with the team Tuesday, Gollings says there is room for improvement and growth, especially with 10 players featuring in Hong Kong for the first time.
He admitted that during the final, the frustrating part was that they gave a lot of possession away which let Australia back into the game and later win.
However, Gollings says that overall, he is happy with how the team performed.
"We want to make sure that winning the World Cup and some of the forms from last season is just not a one-off but we have that consistency and we would be there every tournament and we just proved that now in Hong Kong and you know Hong Kong came with its extra pressure you know everybody wanted us to do 6 times in row etc."
Gollings also said players who debuted over the weekend were incredible, especially with an atmosphere like So Kon Po.
He said the only player they will be monitoring is Iowane Teba who suffered a shoulder injury.
Teba is expected to be out for a few weeks but will be available for the Dubai leg selection.
SOURCE: FBC SPORTS/09 NOVEMBER 2022