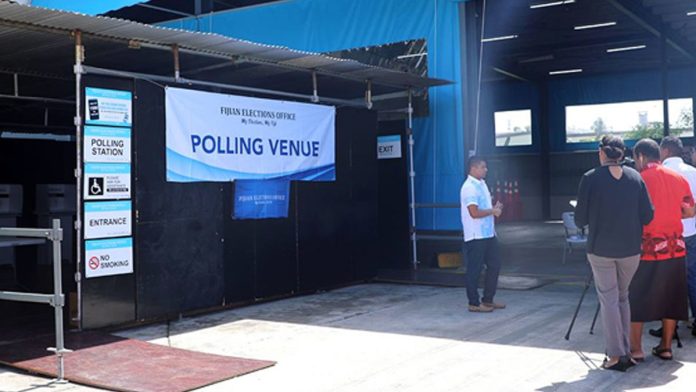 The Fijian Elections Office(FEO) has published the Polling Venue List for the 2022 General Election in accordance to Section 41 (2) of the Electoral Act, 2014.
The Polling Venue List contains the names and addresses of polling venues by divisions.
Supervisor of Elections, Mohammed Saneem has urged members of the public, political parties, government agencies and all other stakeholders to access the list to locate their polling venues.
Saneem said voters should be fully aware of where to vote on Election Day to avoid any confusion of appearing at the wrong venue.
"Each polling venue may have several polling stations to distribute voters and maintain a maximum of 650 voters per polling station," Saneem said.
"The List that is published will contain the names of all the polling venues that were approved by the Electoral Commission in 2021. Following the issue of the Writ, if any venue became unavailable, the FEO will make arrangements and place notices accordingly."
He added voters could also check their polling venues by texting their VoterCard number to 1500 upon which voters will receive a text containing details of where to vote. This is a free service for all mobile networks.
The Fijian Elections Office has also approved the nomination of Independent Candidate Rajendra Prasad Sharma.
Sharma becomes the first approved candidate for the 2022 General Election.
Meanwhile, four political parties have joined hands to closely monitor proceedings at each polling station but the list does not include the Social Democratic Liberal Party, says The People's Alliance leader Sitiveni Rabuka.
He said this when asked how confident was he with the voting and counting process going into the 2022 General Election during a talanoa session with Fijians in Australia last weekend.
"While we are confident, we cannot allow things to just go ahead, we have to watch everything," the former prime minister said.
"We have a joint party team, all the parties are working together – Fiji Labour Party, National Federation Party, Unity Fiji, People's Alliance.
"Those four parties are working together, SODELPA is not working with us."
Rabuka said they had an IT team that has briefed all the teams on what they would have to do on the day of polling and how they would need to transmit information from mobile hand-held devices to a data collection and collating centre in Suva.
"It will involve a lot of people because there's more than 2000 polling stations, and if each party has two agents on at any one time — they may have four at each polling station, taking turns in shifts so that we have an eye on the proceedings right through the day," he said.
In another development, Indian High Commissioner to Fiji Palaniswamy Subramanyan Karthigeyan says India has gladly accepted the invite to co-chair and be part of the Multinational Observer Group (MOG) at the 2022 General Elections.
"I'd like to thank the Government of Fiji for reposting its confidence and trust in us in inviting us to be the co-chair of this Multinational Observer Group (MOG) like in the past two elections," he said.
"As you may know we have gladly accepted the invite and our co-chair and observer will be coming to Fiji soon."
Karthigeyan said he did not know when the MOG would be in the country as processes of identifying the right persons for the job was still on.
"We frankly do not know when they will be able to come because the process of identifying the right person for the job is still on but we intend to have them on the ground as soon as possible which will certainly be before the elections.
"Whether it will happen immediately or maybe it'll take a couple of weeks, I do not really know – that is the frank answer.
"But we will be there. Last time our observer and co-chair were there for like a week to 10 days so I think this time also perhaps it will be like that, if not slightly longer."
He added they had recommended a longer stay but they did not really know as to how the logistics would work out.
"The terms of references came along with the invitation letter – it comes from the person who invites the multinational observer – that is how it goes.
"It comes from the Fijian Government – that is how I look at it as," he said.
SOURCE: FEO/FIJI TIMES/PACNEWS