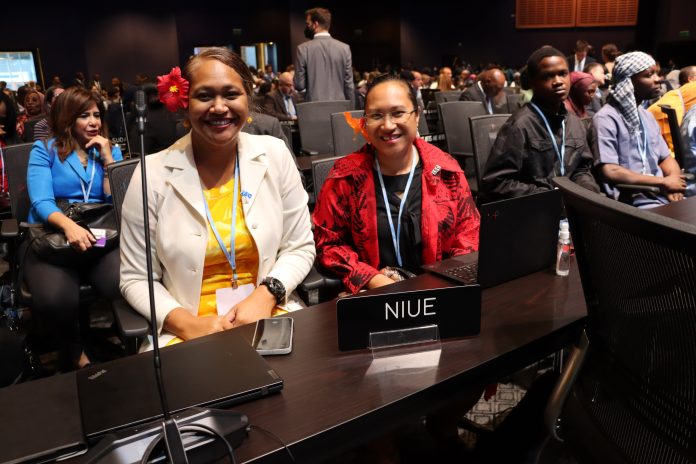 Pacific leaders will be pressing developed nations for payment at the United Nations' climate conference known as COP27 this week in Egypt.
Last year's climate talks in Glasgow ended in acrimony between rich and developing countries over cash for loss and damage as an agreement was pushed back by the United States and Europe.
Developing countries say compensation ought to be arranged for the emissions caused by richer nations over hundreds of years and its consequence on developing states' economies.
However, the U.S and Europe pushed back from opening this discussion at COP27, fearing that paying for historical emissions could put their countries on the hook for billions of dollars for decades or even centuries to come.
Lead negotiator for the Alliance of Small Island States (AOSIS), Conrod Hunte, called these meetings a disconnect from reality.
"Within these walls, the process feels out of step with reality; the pace feels too slow," said Hunte.
He said developing states need the finance to help cope with the existential threat of climate-related issues to Blue Pacific people, islands, and ocean.
Pacific leaders were hopeful the discussion would make it to the agenda this end espeically after COP26, where an agreement to prioritise cuts to carbon emissions was accepted on the back of promises from developed countries to finally set up a compensation process this year.
This was a compromise these nations hoped would pay off by opening the discussion of climate compensation in Egypt, but despite their good faith, it has failed to make it on the agenda in Egypt until the last moment.
A representative from the Tongan government to COP27, Steven Ratuva, said while the very survival of Pacific nations is at stake, the loss and damage to finance will provide a soft landing to cope with the growing threats.
Ratuva explained that loss and damage finance goes beyond environmental compensation and could address social, cultural and psychological issues that arise from climate-related events.
"You can fix a seawall, you can fix houses, but the impact on people, particularly the long-term trauma, is not a quick fix. So there's been a lot of research done on trauma which people experience during extreme calamities," Ratuva added.
"Recently, the category five cyclone in Fiji, for instance, people are still traumatised. According to research, this trauma is not just psychological but also puts stress on people's biology and gives rise to genetic transformation, which can then be inherited through generations.
"So, trauma can be long-term, and it's something which then can lead to all kinds of social issues later on. It's not just the climate you're talking about; it's the long-term impact on human society."
The major discussion for climate funding has remained on mitigation and adaptation, but Pacific leaders say a shift in finance focus is needed.
"Local communities are saying the focus needs to shift from adaptation because when you adapt, you're basically trying to respond to the changes in the conditions. But attention needs to lie on resilience and how we build resilience in the long term," said Ratuva.
"It's not just to do with funding; in fact, there is a strong point of view coming from many global south countries. And that is, yes, funding is important. But, unfortunately, the funding at the moment is not sufficient.
"But also, how do you create resilience within the community, in terms of their lifestyle, environment, the efficiency of housing, health care and support systems within countries?"
The Pacific has received major funding support from developed nations over the years, but whether or not that is enough depends on who you're asking.
Ratuva claims it's clearly not.
"If you look at the figures for what is being delivered, in terms of adaptation, it's not much in the Pacific compared to other parts of the world.
"So, although in terms of per capita, people talk about the Pacific getting a lot of climate funding, that is mitigated by the fact that the extent to which countries experienced extreme climate conditions like cyclones and the fact that they are sea-locked countries makes it much harder."
Pacific Island Forum chairperson Frank Bainimarama has called out developed nations on their action.
"I have a new ask before they (world leaders) arrive in Sharm-el-Shiekh, only come if you plan to arrive true to your climate finance commitments. Only come to Sharm-el-Shiekh if you are ready to agree to a loss and damage mechanism in addition to a post-2025 financing framework. This must be in the order of 750 billion, with at least 10 percent of climate finance destined for small island states," said Bainimarama.
Bainimarama called on world leaders to join the Pacific in its fight against climate change.
"We are unrelenting in this fight for your future. We are determined to provide you with opportunities to do well for yourselves and your families. We are determined to create new jobs in major in technology and sustainable tourism and our blue and green economy.
"Today, we ask the world to join us. This is not the time for war. This is not the time for words. This is the time for will and a time for courage."
The 27th Conference of Parties (COP27) continues until November 18 in Sharm-el-Sheikh, Egypt.
SOURCE: RNZ PACIFIC/PACNEWS