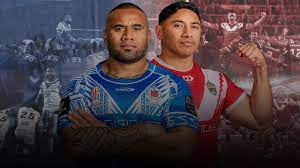 Samoa skipper Junior Paulo says his side's Pacific Island showdown against Tonga, shaping up to be the clash of the World Cup quarterfinals, will be a tribute to the supporters behind the two proud rugby league nations.
Samoa have come a long way since their opening round demolition by England, defeating Greece and then France by big margins to finish second in Group A and set up a quarterfinal against their Pacific rivals in Warrington.
After a standout 43-minute performance against France — including arguably the shot of the tournament —132 run metres, two tackle breaks and an offload, Paulo paid tribute to the support shown by the Samoan and Tongan communities from across the world.
"First of all, I want to make a mention to both the Samoan and Tongan communities. I think it's amazing what both cultures are doing and the way they are celebrating all around the world," Paulo said after Samoa's win over France.
"We're seeing the parades that are happening in Australia, New Zealand and the Islands, seeing the fans and supporters, is everything for the team.
"This means everything to our people.
After Tonga defeated their Pacific neighbours 32-18 in Round 2 of the 2017 World Cup, Matt Parish's side will be desperate to overcome their arch-rivals for the first time since the 2016 Pacific Test. Which, given Tonga's lineup of NRL clubs including Cowboys superstar Jason Taumalolo, will be no easy feat.
"Over the course of the campaign we've been looking forward to improving each week, building from that first performance into Greece and then into France," Paulo said
"We will prepare the same way we did this week for next week. It's all about improving where we can and finding ways to be better.
"Both teams are powerhouses through the middle and have spark on the edges so it's definitely going to be an entertaining style of footy."
The Parramatta prop is no stranger to rivalries in 2022, having featured in the Telstra Premiership NRL Grand Final against Western Sydney rivals, Penrith, while also featuring for the Blues throughout this year's Ampol State of Origin series.
Paulo said the all-Pacific quarterfinal would be of equal importance, especially given the significance of the match to his teammates and community.
"We're proud of where we grew up but we're also proud of our heritage, so you see how much it means to the community," he said.
"I think everyone can be proud of both nations heading into such an important game against each other.
"Let alone the result of what happens; win, lose or draw, they're always going to be proud of us for choosing to represent them," he said…
SOURCE: NRL/PACNEWS