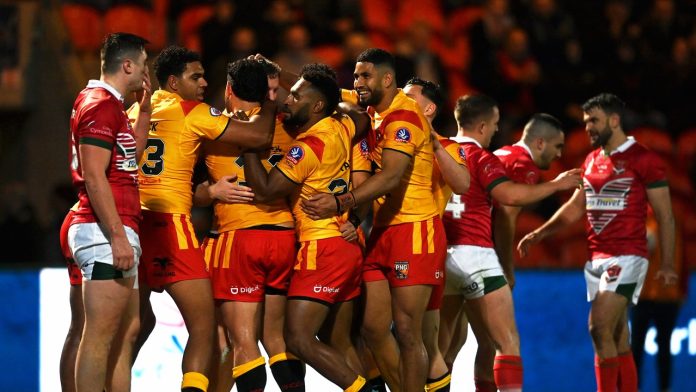 Papua New Guinea have secured a spot in the World Cup quarterfinals after beating Wales 36-0 in Doncaster on Tuesday.
In driving rain, PNG crossed over in just seven minutes through five-eighth Kyle Laybutt, and from there the Kumuls piled on five more tries, with doubles to Nixon Putt and young-gun Jimmy Ngutilk.
It was clear from the kick-off that the Kumuls were determined to book their quarter-final spot, scoring two converted tries in the first 11 minutes through five-eighth Kyle Laybutt and Putt.
Papua New Guinea went further ahead in the 23rd minute when 21-year-old Jimmy Ngutlik put the burners on to break Wales' line and run over 60 metres to score his first try for the Kumuls.
Too big and too strong, PNG went over again in the second half, with interchange Dan Russell finishing off some crisp ball movement from close range to stretch over the stripe and extend PNG's advantage 24-0 at the break.
The opening of the second stanza saw some desperate defence by Wales but weight of possession eventually saw the Kumuls cement their lead with Putt bulldozing his way through Welsh defenders to score his second for the night.
The wild conditions looked to take their toll in the final stages of the match, with a string of costly errors from both sides, but Papua New Guinea had the final say with four minutes to play, when a high ball bounced perfectly for Ngutlik who finished with a double.
The win sets Papua New Guinea up for a quarter final clash against England on Saturday. While Wales will head home, having failed to pick up a win at the tournament.
SOURCE: NRL/PACNEWS