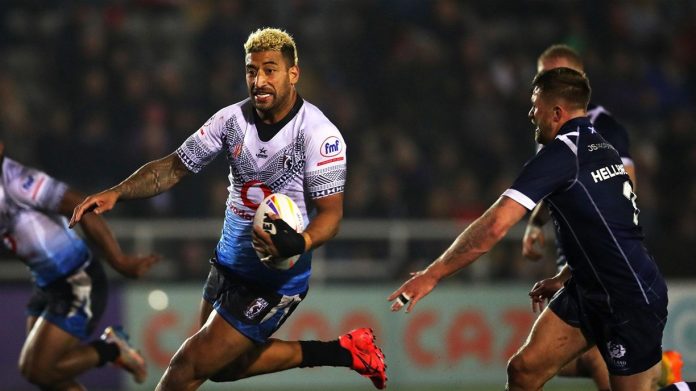 Fiji eventually got the better of a much-improved Scotland 30-14 in their final Group B game, to secure a showdown with New Zealand in next week's quarterfinals.
It was a scrappy performance from The Bati, who enjoyed 60 percent of the possession but for the most part failed to put it to good use, making 16 errors to Scotland's 10.
The Bravehearts had two players spend time in the sin bin, while Bulldogs-bound forward Viliame Kikau also had 10 minutes off the field for his role in a skirmish.
Fiji scored three converted tries in the opening stanza, but leaked a pair of tries which meant they led just 18-8 at the break.
In the end Fiji's two converted tries in the second half was enough to see off the spirited Scottish effort, and while the performance leaves plenty to work on for The Bati, they are through to face the Kiwis in the knockout stage.
Camped on their own line under immense pressure, Scotland needed something and got it in the shape of a well-timed defensive read from Lachlan Walmsley. From there nobody was catching him, with the winger racing 90 metres for a try which at the time reduced his side's deficit to eight points.
"The boys deserve all the praise. It was stop-start, stop-start. We played really well the first 10-20 minutes and then got away from our own plan. But the boys worked it out in the second half," said Fiji interim coach Wise Kativerata.
"They gave it a good shot, didn't they? I think ultimately a few injuries caught up with us and we had to make quite a few changes. But I'm proud of my boys… they had a massive dig. I don't think we could have done anything more tonight," said Scotland coach Nathan Graham.
Fiji are all but through to the knockout phase and look set to face the Kiwis in the quarterfinals for the second World Cup in a row, having made history by eliminating the Kiwis in the same game back in 2017. For Scotland the tournament is over, with the Bravehearts saving their best performance for last.
SOURCE: NRL/PACNEWS