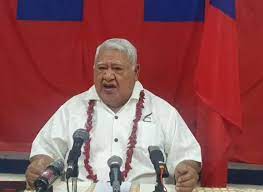 A lawyer representing a man accused of plotting to kill a Samoan prime minister has been blasted by a Queensland magistrate for suggesting the court was favouring the Commonwealth and the island country.
Talalelei Pauga, accused of conspiracy to murder former prime minister Tuila'epa Sa'ilele Malielegaoi, has been in custody since August 2020, when Samoa made an extradition request to the federal Attorney-General's department.
Malielegaoi is now the country's opposition leader and Samoa has been seeking to prosecute Pauga on home soil.
Pauga's case has been through federal and Queensland courts. He has three matters open before the Federal Court and continues to fight extradition.
On Thursday in the Brisbane Magistrates Court, Pauga's lawyer Greg Finlayson told Magistrate Michael Quinn he ought to hear his submissions regarding Pauga being in custody, otherwise Quinn would "not be satisfied" before reaching a conclusion.
Quinn moved to adjourn the matter to November for a hearing.
"If we are not heard, your honour may not be satisfied," Finlayson interjected, after arguing about Quinn's power to remand Pauga in custody.
Quinn responded: "Merely stating a proposition does not make it so."
The magistrate said the matter had been going on for an "enormous amount of time", and involved "very powerful issues".
"I reject a submission that favouritism is being given to the Commonwealth, to Samoa, or Mr McKechnie [representing Samoa]," Quinn said.
"I am not refusing to hear from you," Quinn told Finlayson. "I am, however, saying that the appropriate time to hear from you is not today, where it can't be done. It is to be listed at another date where there can be a full discussion of the issues you wish to raise.
"I reject any suggestion, which is not even thinly veiled, that the court is being unfair to your client. That is absolutely not the case, and demonstrably so."
Pauga was previously accused of throwing a pig's head in a Queensland church at Malielegaoi while he was speaking in 2018 before allegedly plotting to assassinate him.
Queensland prosecutors dropped the charges of public nuisance, but Samoa continued to seek extradition over the plot.
As part of the plot, Pauga was alleged to have transferred money for weapons and was involved in conversations regarding the whereabouts of Malielegaoi.
Quinn remanded Pauga in custody, and set a hearing date regarding the extradition matter to next month.
SOURCE: SMH/PACNEWS