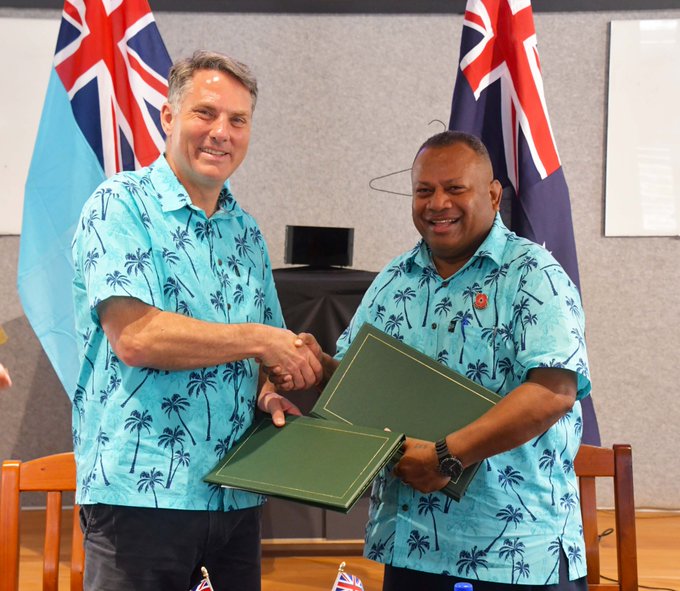 A Status of Forces Agreement (SOFA) was signed Thursday between the Fijian and Australian Government at the Blackrock peacekeeping camp in Nadi.
Fijian Minister for Defence, National Security and Policing, Inia Seruiratu and the Deputy Prime Minister for Australia, Richard Marles signed the SOFA agreement. Both leaders agreed that the agreement marked an important milestone in defence relations between Fiji and Australia.
"This Agreement reflects the increased cooperation between our forces to address traditional and non-traditional security threats including climate change, humanitarian crises and disasters. Fiji and Australia's security cooperation forms the bedrock of our Vuvale Partnership and helps maintain regional stability, resilience, and peace," Minister Seruiratu said.
In addition to the agreement, Minister Seruiratu noted that it strengthens the Defence Cooperation Programme, which is growing stronger and stronger, as well as facilitating greater personnel exchanges between Fiji and Australia. In addition to enhancing the RFMF's capacity and capability development ambitions, it will also enhance the interoperability of the RFMF with the Australian Defence Force.
Australian Deputy Prime Minister and Minister for Defence, Richard Marles said the signing of the agreement shows a development in the defence partnership between the two countries, which will allow both countries to continue to assist each other in times of crisis.
"We share an interest in a peaceful, secure and resilient Pacific and need to work together to effectively respond to common security challenges (traditional and non-traditional)."
"Australia and Fiji know we can rely on each other at times of need. This was demonstrated by the deployment of Bula Force to Operation BUSHFIRE ASSIST and FLOOD ASSIST, and the deployment of the Australian Defence Force to Operation FIJI ASSIST. The Status of Forces Agreement will make it easier to deploy to each other's territories at times of need."
The Vuvale Partnership was signed in 2019 and it is based on five pillars which is to strengthen people-to-people links, enhance security cooperation, deepen economic relationship, build support on international and regional issues, and foster closer institutional linkages.
Through this partnership, the Fijian and the Australian Government have strengthened engagements in a wide range of areas including health, education, tourism, trade and investment, labour mobility, sports, defence, humanitarian assistance and disaster relief.
SOURCE: FIJI GOVT/PACNEWS