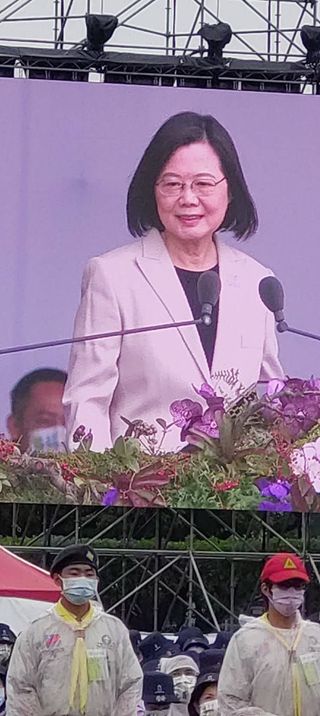 By Makereta Komai, PACNEWS Editot in Taipei
Taiwan says it will not actively go out of its way to try and persuade two of its former allies in the Pacific – Kiribati and Solomon Islands – to switch diplomatic relations back to Taipei.
Both Kiribati and Solomon Islands severed ties with Taiwan in favour of the People's Republic of China in September 2019 – leaving four countries, Nauru, Marshall Islands, Palau and Tuvalu – on Taipei's list of friends in the Pacific.
However, there are chances they could return if they see that China's election promises to them have not been realised.
Foreign Affairs Minister, Joseph Wu hinted to the international media attending the country's 111th anniversary of independence celebrations that "Taiwan is open to them if they want to come back on their own.'
"After all the big promises from China, if they feel they want to come back, we are open to them. But we are not going to actively pursue them, said Minister Wu.
He's also worried about China's expansion and influence in the Pacific region – a potential threat to the security and peaceful existence of countries in the Indo-Pacific region.
"It's worrisome to see Chinese military exercises in recent times in the Pacific. While the focus is on the Taiwan Straits, in recent times, it has extended its authoritarian order deep into the Pacific, close to Guam. In June it signed a security pact with Solomon Island. These activities are right at the door step of Australia and New Zealand.
"For democratic allies like Australia, New Zealand and Japan in the Indo-Pacific, they need to co-operate and work with each other to stop China's expansionism plan, said Wu.
For its part Taiwan will promote dialogue instead of war to resolve Cross Strait issues between the two countries. Taiwan and China are across each other in the Taiwan Strait.
Taiwan's deputy minister for Mainland Affairs, Chui Cheng Chiu reiterated strongly the role that allies can play to contain China's influence and aggression.
"Our allies in the Pacific can choose to stand with democratic principles and show China that aggression and war are not the answer to dealing with Cross Strait issues.
Taiwan is ready to resume dialogue with China after a three year 'cooling off period' – as long as Beijing recognises Taipei's sovereignty and its democratic system of government.
"All channels of communications still exist between the two nations and we'd like to engage in meaningful dialogue but China refuses to engage directly with us. Now that the borders have opened up, we'd like to pursue resumption of dialogue, said Chiu.
President Tsai Ing-wen in her National Day address Monday said her administration is "willing to work with Beijing authorities to find a mutual arrangement to uphold peace and stability in the Taiwan Strait," provided that negotiations are conducted with "rationality, equality and mutuality."
"I want to make it clear to Beijing authorities that armed confrontation is absolutely not an option for our two sides," Tsai said.
"Only by respecting the commitment of Taiwanese to their sovereignty, democracy and freedom can there be a foundation for resuming constructive interactions across the Taiwan Strait," she added.
"We look forward to the gradual resumption of healthy and orderly cross-strait people-to-people exchanges after the loosening of border restrictions on both sides, thereby easing tensions in the Taiwan Strait," she said.
Beijing suspended diplomatic contact with Taipei six years ago after President Tsai came to power and refused to endorse the idea that Taiwan and mainland China are part of one China, a concept known as the 1992 Consensus
SOURCE: PACNEWS