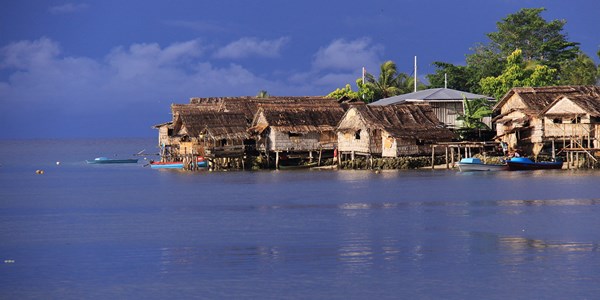 Registrations are now open for the 'Pacific Climate Justice Summit,' which will be held from the 4th – 5th October 2022.
With the theme 'Securing Climate Justice: From Grassroots Action to Global Traction', the Summit will bring together a wide range of key actors from grassroots communities, national governments, civil society, faith communities, and development partners to elevate the voices and issues of frontline Pacific climate-affected communities and groups.
The two-day summit will provide a platform for sharing of knowledge and experience by key actors, and solidify people-centered climate justice policy positions for the Pacific in the lead-up to COP27.
The hybrid event will be hosted physically in Suva, Fiji with hubs in the Solomon Islands, Tuvalu and Vanuatu allowing participants to convene physically and join virtually alongside other participants across the region. Side events running adjacent to the summit will further add to the richness of culture, knowledge and perspectives on loss and damage, climate mobility, gender-sensitive and inclusive action, and climate financing among other important topics.
Climate change remains to be the single greatest threat to Pacific people's livelihood, security, and wellbeing, and has over the years exacerbated other development challenges. Global commitments, and the pace and scale of actions to address the climate crisis, continue to be insufficient to meet the 1.5-degree goal that was agreed to in Paris, raising alarms throughout the Pacific.
Last year's Pacific Climate Justice Summit culminated in the Pacific Demands—a document that outlined the Pacific priorities that guided the advocacy and negotiations at COP26 in Glasgow.
Lavetanalagi Seru, Regional Policy Coordinator, Pacific Islands Climate Action Network said that the Summit builds on the collective effort of Pacific civil society and communities to secure an inclusive, equitable, safe, and sustainable future for all.
"Centering the voices of our frontline climate-affected communities, the Summit aims to solidify our positions and messages on key issues such as Loss and Damage, Climate Mobility, Climate Finance, Gender and Social Inclusion, Adaptation and Oceans. The Summit will also provide an opportunity to showcase climate action-related initiatives, and policies that are enabling resilience building in our Pacific Island communities."
Noelene Nabulivou of Diverse Voices and Action (DIVA) for Equality said:
"This Summit clarifies and amplifies the demands of Pacific people into COP27 and beyond, working toward a safe and equitable future for all. We reiterate that climate change is a symptom of deeper imbalance, injustice and inequalities. Therefore, women's human rights, gender justice and universal human rights is a precondition for social, economic, ecological, and climate justice," shared Reverend James Bhagwan of the Pacific Conference of Churches emphasised the importance of the Summit saying:
"It is essential that we develop a common Pacific message that speaks to the world, calling for justice and gives hope to our Pasifika family. It's important also to strategize how we will work together to amplify key issues, given that we are expecting a limited space for Civil Society engagement at COP27. PCC looks forward to the outcome of this summit which we will then share, along with the upcoming Kioa Declaration," he said.
To register, visit www.pican.org/pacific-climate-justice-summit
For more information contact Office of the Secretariat
Pacific Islands Climate Action Network (PICAN)
Email: canpacificislands@gmail.com
Dylan Kava on +679 9061989 or dylan.kava@gmail.com
or Bedi Racule on +679 7294043 or cj@pcc.org.fj
SOURCE: PICAN/PACNEWS