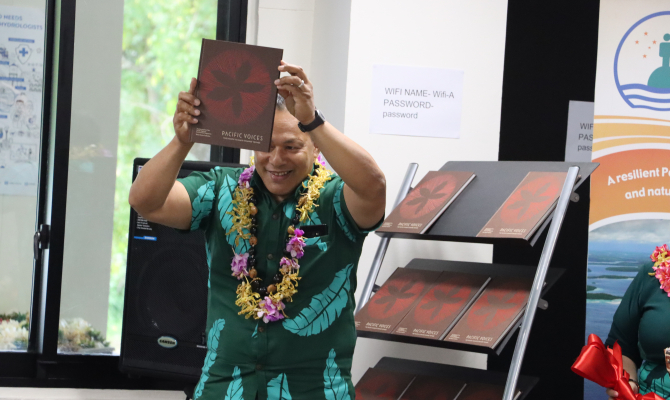 Pacific peoples retain their history, culture and traditions, and pass them on from generation to generation through songs, poetry, and stories.
A book which was launched Tuesday during the Pacific Preparatory Meeting for the United Nations Framework Convention on Climate Change 27th Conference of the Parties (Pacific Pre-COP), documents the Pacific's climate change voyage over the years in much the same way.
The book, titled 'Pacific voices – the Pacific climate change voyage', is the Pacific's innovative call to action for a 1.5 degree Celsius world. It is a compilation of poems, stories and images from Pacific creatives and artists, along with statements from Pacific leaders at past Conferences of the Parties.
This call for action, according to Sefanaia Nawadra, Director General of the Secretariat of the Pacific Regional Environment Programme (SPREP), needs to be amplified during COP27 in Sharm el-Sheikh, Egypt.
The call for action is supported by science, which is also interwoven into the stories and poems throughout the book.
"This book is quite special, as it allows us to tell our Pacific stories while also including the science in a way that people can relate to," said Ms Tagaloa Cooper, Director of SPREP's Climate Change Resilience Programme.
"We also pay homage to our Pacific negotiators, because we wouldn't have this book and we wouldn't be able to do this work without them. We would like to acknowledge them and encourage them to stay the course and walk the walk for a resilient Pacific."
The poetry, stories and images included in the book were showcased at COP26 as part of the Mana Moana Pacific Voices campaign, which brought together Pacific island poets, names such as Dr Karlo 'Ulu'ave Mila of Tonga, Betty S Chapau of Papua New Guinea, Faumuina Felolini Maria Tafuna'i of Samoa, and Craig Santos Perez of Palau to name a few.
It also includes statements by Pacific ministers at previous COPs, including Hilda Heine of the Republic of Marshall Islands, Voreqe Bainimarama of Fiji, Dalton Tagelagi of Niue, and Ali'ioaiga Feturi Elisaia of Samoa.
This creative content is underpinned by the heavier science throughout the book, including ocean warming, marine heatwaves, Pacific disaplacement, Pacific emissions, and Global Inaction.
SPREP's Director General, Sefanaia Nawadra, remarked that it is very special that the book is launched during the week of the Pacific COP Preparatory meeting, as it is the first time that the Pacific's family of climate change negotiators have been able to come together in a face-to-face meeting since the start of the pandemic.
Joe Aitaro of Palau, says of the book, "As said today – we stand on the shoulders of our ancestors to move forward, and this book captures that. One day when future policymakers and negotiatos ask how we amplified our voice – it's here in this book.
"We work together in partnership. Having our Pacific voices captured in this book unities us in our fight for climate resilience," Vaiaoga Lameko of Tuvalu says.
Also present at the launch was Andrew Croot of Storybox who partnered with SPREP to develop the book.
The launch took place in Apia, Samoa on 27 September 2022 during the PSIDS Preparatory Meeting for UNFCCC COP27 now underway in Samoa from 26 – 29 September.
Pacific Voices: The Pacific Climate Change Voyage Book was developed in partnership with SPREP and Storybox, with support from Aotearoa New Zealand.
SOURCE: SPREP/PACNEWS