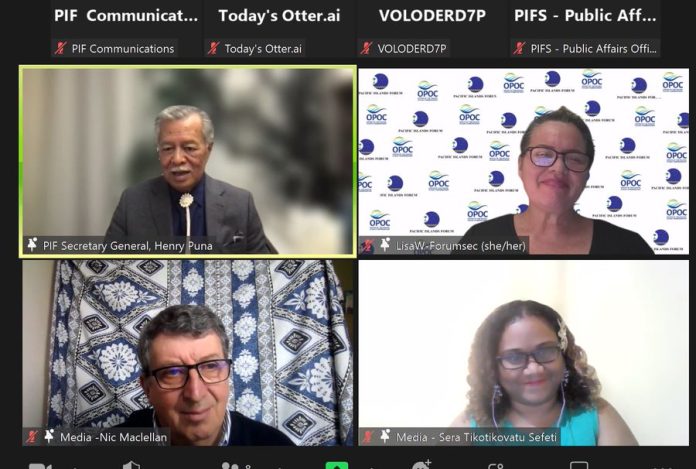 The Secretary General of the Pacific Islands Forum Henry Puna said his personal friendship with Kiribati President Taneti Ma'amau has remained unchanged despite the controversial decision of Kiribati to hold to its withdrawal from the Pacific Islands Forum.
Secretary General Puna confirmed to a virtual media briefing on the weekend that he had met the President and "despite what is happening at the political level, I think it's very important that we maintain our relationship at the personal level. That is very important– so leaving politics aside, we still have what is at a personal level".
SG Puna was speaking to journalists from New York, where he was preparing to depart for the Pacific Leaders Summit in Washington, which has initially been with some of the Forum members but has since been expanded to include all of them.
He said it was "good to have the President of Kiribati here at the UN this week," but would not be drawn on how dialogue and other global partners in the UN are reacting to the Forum and its claimed solidarity, given the Kiribati withdrawal.
"We all know what's been happening …so there's really is no need for me to traverse that issue again," Puna said. He said he had made a point of going up to congratulate him after the delivery of his plenary statement, to meet him, "because, you know, we've been friends for a long time. And it's good to see that warmth is still there".
Kiribati has remained out of the Suva Agreement which other Micronesia states have agreed to, as negotiated by the Forum Chair through a Special Envoy and a series of confidential meetings and discussions, which the Forum termed a High-Level Political Dialogue Mechanism.
The ongoing talks agreed on a list of next steps detailed in the Suva Agreement, and hailed as healing the rift and threatened walkout. But Kiribati has been resolute that the deadline for Puna's departure, set as the end of June, had not been met– and therefore, it could not take back its decision to leave the Forum family.
Meanwhile, the Forum Chair, Fijian Prime Minister Frank Bainimarama, has stressed that efforts will continue and that the door will always be open for Kiribati for its welcome return to the Forum family.
SOURCE: PACNEWS