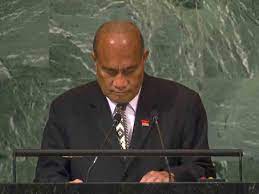 The president of Kiribati, Taneti Maamau, has called for an end to the use of nuclear weapons during his speech at the 77th session of the United Nations General Assembly.
Maamau denounced the nuclear tests conducted on Christmas Island, which damaged the local ecosystem, and called on the UN to use the island as a global center for anti-nuclear research and related programmes and activities.
He explained that the consequences of the SARS-CoV-2 Coronavirus pandemic, climate change and the conflict in Ukraine are clear examples of interconnected challenges that must be urgently addressed at this session of the UN Assembly.
A broken humanity cannot be fixed with wonderful speeches, meetings, resolutions and international instruments, but only with a display of greater understanding and solidarity, he said.
The President took the opportunity to thank the international support to the people of Kiribati during the pandemic.
Kiribati is an island republic in the Central Pacific that includes 33 coral atolls and islands spread over three and a half million square kilometers of ocean, with islands in the eastern and western hemispheres and north and south of the equator.
One of the main challenges facing this nation is climate change, since according to experts, it could become the first country to disappear under the waters of the ocean, with the rise in sea level.
SOURCE: PRENSA LATINA/PACNEWS