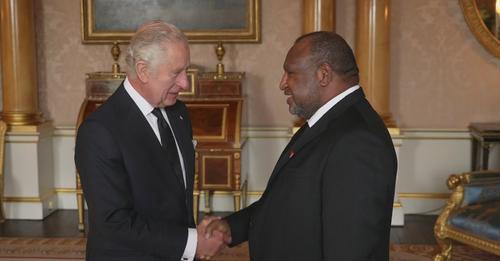 Papua New Guinea Prime Minister James Marape says it is "very important" to maintain the current relationship with the United Kingdom and the Commonwealth, as many expect the "republic" debate to re-emerge after Queen Elizabeth II's funeral.
"This might seem outdated to some who say it is of history but in this modern world, belonging to a family of nations is very important," Marape said.
"For us on the global stage, being a member of the Commonwealth group of nations – the closest group of nations to the monarchy – and to be among the 14 nations, the Queen and now the King remain our Head of State.
"While this remains as a symbolic role, the family of nations is linked to bilateral relations with the United Kingdom and the outside world as we move forward in contemporary PNG and modern times.
"Nation-to-nation relationship through the Commonwealth gives us access to 57 other nations.
"Closer to home, we belong to the Pacific Islands Forum.
"We belong to the Asia Pacific group of nations, and we are an associated member of the Association of Southeast Asian Nations."
Marape said the old "republic" debate might pick up again after the funeral of Queen Elizabeth, whether PNG should retain its status with England's monarchy or choose to leave this path as other nations with links to United Kingdom (UK) have done".
Marape said PNG would benefit from maintaining close ties with the UK, one of the G5 nations.
"Maintaining a relationship with the United Kingdom is very important going forward," he said.
King Charles II was to have met Marape on Friday but postponed it to Saturday in a phone call to the PNG High Commission in London.
"For me to receive a call from the King is very important," Marape said.
"It is symbolic but King Charles is no ordinary king.
"He has visited PNG four times.
"The Queen had said then Prince Charles was fond of PNG.
"So we have someone who has a very close association with us."
Marape and Governor-General Grand Chief Sir Bob Dadae to attended the Queen's funeral this week.
Meanwhile, King Charles III says he has fond memories of Papua New Guinea and holds the country close to his heart.
He made this known during a telephone conversation with Prime Minister James Marape on Friday when the latter was at the PNG High Commission's office in London for an Independence Day lunch.
King Charles told him from Buckingham Palace: "I have particularly fond memories of being in Papua New Guinea.
"I cannot thank you enough for the kind and wonderful tribute that you and others have made to the Queen.
"It is truly touching to me to hear and read what people have been saying.
"I shall do my utmost best for you all." King Charles told Marape that he was aware of the challenges Papua New Guinea faced, in particular climate change and global warming.
"We must find ways, we have to tackle it," he said.
King Charles also thanked Marape for making the trip to London after the earthquake last week in PNG.
SOURCE: THE NATIONAL/PACNEWS