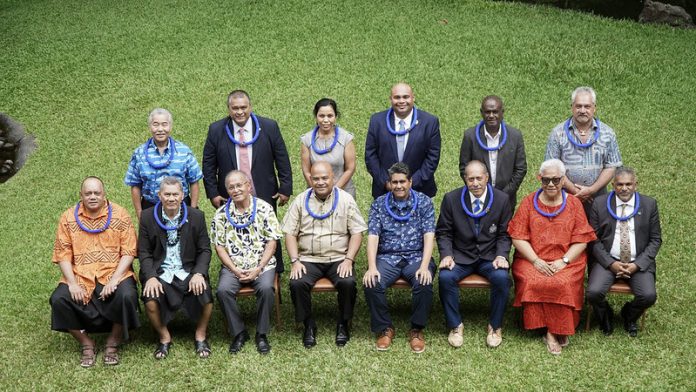 Pacific island leaders hope to get more support for their goals — particularly regarding climate change and economic diversification — at a summit in Washington, with President Joe Biden at the end of this month.
The 28-29 September summit comes amid growing U.S tensions with China and a recent security deal between China and the Solomon Islands that's part of China's ongoing efforts to strengthen its own relationships with island nations in the region.
China's interest has highlighted how the U.S has deprioritised diplomacy in parts of the region, undermining its dominance since World War II.
"From a symbolic perspective it's important for the U.S.to show it still has skin in the game," Derek Grossman, senior defense analyst at the RAND Corp, said.
Pacific leaders will be looking for concrete commitments aimed at addressing growing problems that are threatening the way of life in their communities and their islands' very existence.
Summit invitees include Fiji, the Solomon Islands, Kiribati, Papua New Guinea, Vanuatu, Tonga, Samoa, Nauru, Tuvalu, Palau, the Marshall Islands and the Federated States of Micronesia.
The DC summit falls on the heels of another conference in Honolulu last week, the Pacific Islands Conference of Leaders, which featured more than a dozen Pacific island countries and territory leaders.
"The countries in the region would really like to make sure that this summit does have real deliverables to the region in addressing key issues," said Gerald Zackios, Marshall Islands Ambassador to the U.S, adding that one pressing topic is "the existential threat that climate change poses."
In addition to climate change, priorities include diversifying economies to get away from overreliance on tourism and fishing industries and ensuring peace and security in the region, Federated States of Micronesia President David Panuelo said during a press conference at the conclusion of the Honolulu conference.
Pacific countries also want the U.S to embrace the Blue Pacific strategy, a document adopted in Fiji by the Pacific Islands Forum this summer that outlines the region's concerns particularly regarding climate change, regionalism and cooperation.
"That will be a document that I believe the United States will have to pay close attention to as it encompasses all of our priorities," Panuelo said. He noted the U.S is expected to soon announce a special envoy to the Pacific Islands Forum, part of a slew of recent Pacific diplomatic initiatives announced by the Biden administration in July.
Hawaii Govenor David Ige, who reviewed the Blue Pacific strategy at last week's conference along with representatives from Guam, the Northern Marianas and American Samoa, said the consensus among Pacific island leaders was a desire for the U.S to address their needs rather than imposing its own.
"I think what was the sentiment shared by Pacific island leaders is that they are hopeful that they would be able to work with the Biden administration on our strategy and our plan, rather than have the White House and the U.S develop a plan for the region," Ige said.
White House spokeswoman Karine Jean-Pierre said in a statement earlier this month that the summit will include a discussion of climate change, as well as "pandemic response, economic recovery, maritime security, environmental protection, and advancing a free and open Indo-Pacific."
Deputy Secretary of State Wendy Sherman represented the U.S at the Honolulu conference last week and met with Panuelo as well as leaders from the Cook Islands, Tuvalu, Tonga, Solomon Islands, Samoa, Nauru and Australia.
Sherman also met with Henry Puna, secretary general of the Pacific Islands Forum, which has experienced strained relations between Polynesian and Micronesian countries over the past couple of years.
She "emphasised the United States' commitment to a strong and unified Pacific Islands Forum as well as increasing engagement with the region," according to a press release by the State Department.
But despite the U.S desire to improve relations with Pacific peoples, the Biden administration has drawn criticism over its decision to exclude Cook Islands, Niue, New Caledonia and French Polynesia from the summit invite list.
"Increased engagement with the U.S is probably very much welcome," Panuelo said. "But there is a distinct and profound desire for the U.S to treat all Pacific Island countries with respect, and that is inclusivity."
He noted Samoa and Niue both raised the issue with Sherman during the Honolulu conference.
The Pacific Islands Conference of Leaders allows Pacific members who are states and territories of the U.S. and France to participate fully.
"We believe the U.S intention is a genuine one to engage all of us, but some of those protocols will have to be worked out," Panuelo said, adding he believes the upcoming summit will be successful.
Tarcisius Kabutaulaka is a political scientist and associate professor at the University of Hawaii Centre for Pacific Island Studies who formerly directed the centre.
He said there's a need for more training and literacy among U.S diplomats to better understand the Pacific islands, not only politically but culturally.
"It would have been nice to invite everybody including those that do not have United Nations representation," Kabutaulaka said in an interview.
The summit is an extension of the Biden administration's push to increase its engagement in the Pacific and counter China's diplomatic efforts in the region.
In some ways, the U.S has been playing catch up.
"This is the first-ever Pacific island summit held by a U.S administration. That just goes to show the region from a historical perspective has not been our top priority," said Zongyuan Zoe Liu, a fellow at the Council on Foreign Relations.
She noted that the U.S closed its Solomon Islands embassy in 1993, just as China was beginning to ramp up its Pacific engagement.
Only recently has the U.S. hegemony in the region been challenged by China and now the U.S is no longer taking the Pacific region for granted, she said.
"For all these years the U.S. has been retreating from the area," she said, referring to countries in the South Pacific. "It almost feels like it's a vacuum in terms of U.S presence."
The U.S has been more involved with the Federated States of Micronesia, Palau and the Marshall Islands, but even then the Biden administration has faced criticism for its slow progress in renegotiating security treaties with all three nations. The economic provisions of the treaties, known as the compacts of free association, expire in 2023 and 2024.
Six months ago, Biden appointed a presidential envoy to manage the negotiations and formal talks are expected to take place between Micronesia and the U.S in Honolulu this week. But the presidential envoy appointment only happened after much urging by Congress.
"The fact that we have to have a coordinator for the COFA negotiations means it's not going well," Grossman said.
Zackios, the Marshallese ambassador, said that he thinks the deadline can be met if the U.S. responds well to his country's desire for support in addressing not only climate change but also the U.S. nuclear legacy.
Liu also noted that after World War II, the U.S spent a lot of money in Europe through the Marshall Plan but the Pacific, which was the site of many battles as well, didn't see the same level of American investment.
More recently, China has been increasing its Pacific region investments. Liu said that between 2013 and 2018, Chinese investment in Pacific island countries increased from less than US$1 billion to more than US$4.5 billion.
Still, the Council on Foreign Relations fellow cautioned against the U.S reacting too strongly to China.
"We should focus on how we can be a good leader just on our own terms rather than being led by another country," she said.
The Biden administration's efforts to ramp up Pacific engagement include plans to reopen its Solomon Islands embassy and open new embassies in Kiribati and Tonga.
Kabutaulaka noted the diplomatic strategy of presidents hosting Pacific leaders and visiting their countries is something already practiced by China. He added he cannot recall a sitting U.S president ever visiting a Pacific island country.
In contrast, China's President Xi Jinping visited Fiji in 2014 and Papua New Guinea in 2018 and has rolled out the red carpet for Pacific island leaders in Beijing.
"In that sense, a lot of Pacific island countries probably think China gives more importance to the region," Kabutaulaka said.
China is a major trade partner especially to South Pacific nations. Kabutaulaka said in addition to climate change, trade is another key topic that Pacific leaders would like to discuss at the summit.
"What is the U.S going to put on the table and will it benefit Pacific island countries?" he asked. "I'm looking forward to learning more," he said.
SOURCE: HONOLULU CIVIL BEAT/PACNEWS