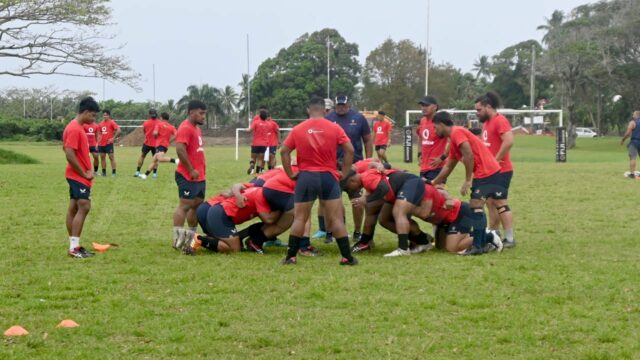 With only seven overseas-based players, the main focus of Samoa is to give enough exposure to its local players in the Fiji Rugby Invitational Series.
The team brings 23 local players from Samoa who have not had enough international experience.
Manuma Samoa coach Afa Hanipale says the overseas-based players who are from New Zealand gives a good balance to the side.
He says with a young Samoan side, the aim is to develop enough local players into the main team as well as for other international matches.
"So the 7 players that we picked from this and its basically the players that are the positions we couldn't fill in Samoa and plus the boys from NZ they bring in something new and different mindset on how we do things and i think that's the purpose of selecting these players from NZ"
Meanwhile, Manuma Samoa full-back Fritz Rayasi who has links to Fiji knows it won't be any easy contest against the Swire Shipping Fijian Warriors this weekend.
The former Fiji Under-20 squad member has a clear picture of what the Fijians will be bringing.
The Matuku, Lau native said he's looking forward to coming up against some familiar faces.
"We expect them to be pretty fast-paced, some big boys making move so we're looking to try and disrupt that hopefully. Looking forward to playing with the warriors and I've trained with a few under-20s before it got cancelled for Fiji so it's good to be playing for Samoa and representing Fiji as well"
Fiji will take on Manuma Samoa on Saturday at the HFC Bank Stadium in Suva at 3pm.
SOURCE: FBC SPORTS/PACNEWS