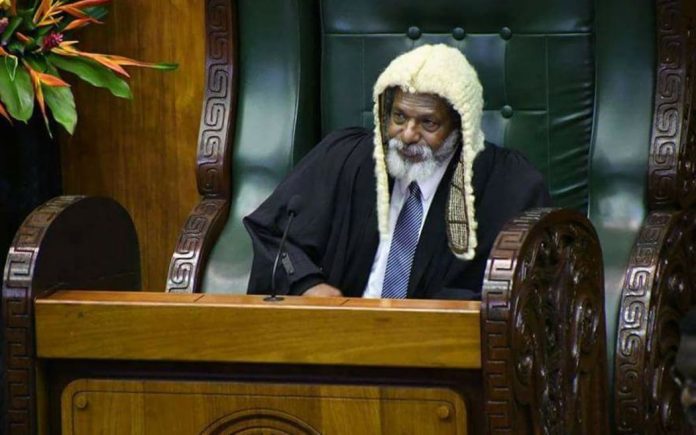 The Papua New Guinea Supreme Court has allowed Speaker Job Pomat to intervene in an application filed by Ialibu-Pangia MP Peter O'Neill on the legality of the 11th Parliament's maiden sitting on 09 August.
Justice Derek Harthsorn, sitting as a single Supreme Court judge made the ruling in Waigani on Friday.
O'Neill had sought the court's interpretation on whether:
*The election was deemed to have failed if, according to Section 97 (2) of the Organic Law on National and Local Level Government Elections, no candidate was declared by 05 August;
*The Electoral Commissioner (EC) had the power under the Organic Law and elsewhere to extend the deadline of the return of writs beyond 05 August; and,
*The EC was in breach of Section 50 of the Constitution by extending the date for the return of writs.
The other interveners in the case, to date, are the People's National Congress (PNC) party, Attorney-General and Pangu Pati.
The court ordered Pomat to file his statement of response within seven days and adjourned the matter to the registry.
Last Thursday, parties argued whether Pomat should be allowed to intervene in the proceedings.
Pomat's lawyer Robert Ranewa said the Speaker should be allowed to intervene because the questions raised in the application referred to constitutional laws of national importance.
O'Neill's lawyer George Kult objected saying that the correct person to intervene was the Clerk to Parliament and not the Speaker.
He said when Ranewa appeared in court on 09 Aug, he was representing the Clerk to Parliament.
Ranewa explained that it was because a Speaker had not been elected at that time (09 August).
PNC's lawyer David Dotaona agreed with Kult that Pomat should not be allowed to intervene.
State lawyer Troy Mileng, representing the Attorney-General, said Pomat should be allowed to intervene because he was named in the application.
Also, the questions raised in this application relates to Constitutional laws, hence the Speaker should be allowed.
Representing Pangu Pati, Simon Dewe also agreed with Mileng that Pomat should be allowed to intervene.
SOURCE: THE NATIONAL/PACNEWS