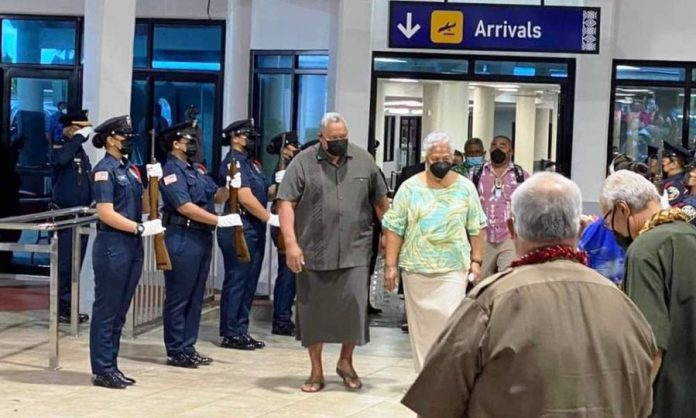 Samoan Prime Minister Fiame Naomi Mataafa and delegation that includes five Cabinet Ministers and officials, were welcomed by American Samoa Governor Lemanu Peleti Mauga on arrival at Tafuna Airport Wednesday.
It is Matafa's first official visit as Prime Minister since she took office a year ago this week and will be resuming the Samoa Talks last held before travel disruptions by the 2019 Measles epidemic and the Covid pandemic in 2020.
Speaking in Apia , Prime Minister Mata'afa said that it was most fitting for the two Governments to sit down to continue the annual dialogue which started in 1983.
"Also we are a new Government and the same with the Territorial Government and we need to understand each other's' priorities which will benefit the two Samoas," said Mata'afa
The Prime Minister is heading Samoa's delegation that includes the Minister of Finance – Mulipola Anarosa Molioo, Minister of Agriculture – Laaulialemalietoa Leuatea Polataivao, Minister of Commerce & Business – Leatinuu Wanye Sooialo, Minister of Works – Olo Fiti Vaai and the Minister of Health – Valasi Togamaga Tafito Selesele. Also included are the CEO's of the Ministries represented in the Talks.
The Talks will be over two days starting on Thursday (Samoan time) to revisit and review outstanding and new issues of mutual benefit.
Among the issues would be the COVID Response and cooperation from both sides as restrictions ease and borders reopen.
The long outstanding issues in the previous Talks expected to be addressed in the two day session include Immigration, Trade and Economic Integration, Agriculture, Health, Education, Transport, Telecommunication, and Tourism.
For exports, the Samoan Agricultural sector is optimistic that their American Samoa counterparts will assist with a request from Apia to the United States Department of Agriculture for agricultural exports via American Samoa.
"Immigration remains a contentious issue with the current Talofa Pass receiving a lot of criticism for the unnecessary hassles and difficulties it is imposing mainly on travellers from Samoa."
The online travel screening app was originally instituted for travellers between American Samoa and Hawai'i before travellers from Samoa were included.
The Samoan Government has opened a new Consulate Office in American Samoa as its commitment towards diplomatic representation and the importance placed on the relationship between the two Samoas.
SOURCE: TALAMUA ONLINE/PACNEWS