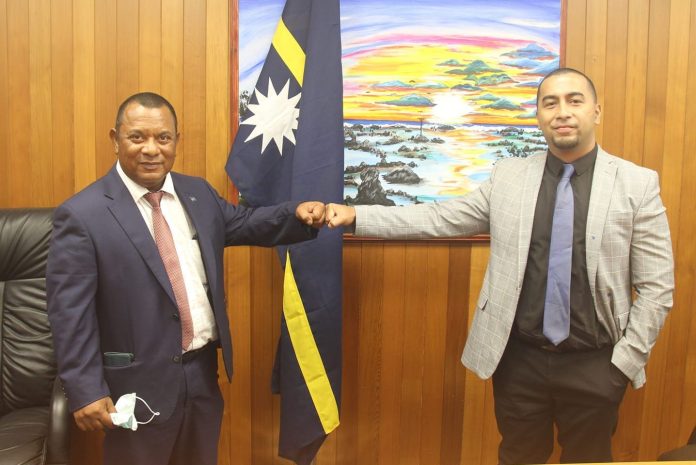 The Micronesian Games Council (MGC) confirmed Nauru will host the 2026 Micronesian Games during a virtual meeting held Saturday, 23 July.
The MGC voted unanimously on the Nauru National Olympic Committee (NOC) Micronesian Games Association's (MGA) bid to host the Games.
The bid is supported by the Nauru Government and will have four years to prepare for the quadrennial event.
President Lionel Rouwen Aingimea was informed of the decision immediately after the meeting and was ecstatic with the decision and offered his full support.
President Aingimea also commented that Micronesian countries ought to share the Games around within its membership and thanked the vision of the Micronesian Games Council members. Nauru looks forward to welcoming the athletes of Micronesia to her shores.
Minister for Sports Maverick Eoe, MP., who was responsible for pushing for the bid to host the Games has big plans to build relevant and much-needed sporting infrastructure for the 2026 Games and more importantly, to leave a legacy for the future of the athletes to boost their training performances.
"It is really an exciting time for our athletes and the Government will ensure that the athletes are looked after. It is all about the athletes," Minister Eoe said.
Nauru plans to build a new athletics stadium, similar to the infrastructure being built in Majuro for the 2022 Micronesian Games. The confirmation of the hosting rights will help start the process of building the structure.
The Nauru NOC President and Speaker of Parliament, Hon. Marcus Stephen says Nauru is "very keen to host the next Micronesian Games."
"We will be discussing the sports to be hosted on the island along with other requirements of the Council.
"All competition facilities are within walking distance or a five to ten minute drive. We are all excited about what is ahead of us.
"There will be challenges but I am confident we can deliver a Games that our athletes in Micronesia will remember," Mr Stephen said.
Stephen expressed his appreciation to the Republic of the Marshall Islands as the host of the 2022 Games having "paved the way for our southern islands in the archipelago to seek the opportunity to host the Games."
He thanked the members of the MGC for their support as well as the MGC executives, President Aurelio Joab and Secretary-General Joey Miranda III for their assistance in fulfilling the obligations on their bid.
Donor partners have offered financial assistance with preparations including infrastructure plans.
SOURCE: NAURU GOVT/PACNEWS