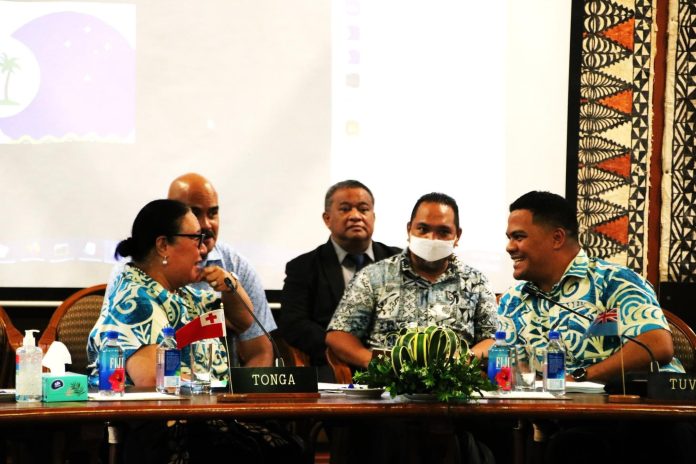 Formal outcomes from the Forum Foreign Ministers, held in Suva on Friday have been released with key collective decisions including a declaration that the Pacific is facing a Climate Emergency that threatens the livelihoods, security and wellbeing of its people and ecosystems.
Spearheaded by Vanuatu, Foreign Ministers also endorsed a recommendation for Forum Leaders to call on the UN General Assembly for a resolution requesting the International Court of Justice to provide an advisory opinion on the obligations of states under international law, to protect the rights of present and future generations against climate change impacts.
Foreign Ministers set priorities for COP27, taking place in Sharm el Sheik, Egypt this November, to ensure the 27th global meeting turns pledges and commitments into action, consistent with the 1.5 degrees pathway.
The region will once again be led by Political Climate Champions, including a new Champion on Gender and Social Inclusion.
Ministers welcomed Australia's renewed commitment to the Forum's climate change priorities and also welcomed Australia's interest to host a future UNFCC COP in partnership with Pacific Island countries.
On nuclear legacy issues, Foreign Ministers reiterated that Japan's plans to discharge of ALPS treated water into the ocean could lead to transgenerational impacts of great concern to the peoples of the Pacific, and reiterated statements by the Government of Japan that there will be no discharge of ALPS treated water into the Pacific Ocean if the water is not safe.
Foreign Ministers considered the scientific advice produced by the PIF Panel of Independent Experts, which indicate major gaps in data and information needed for further assessment of safety prior to any discharge. The scientific advice and recommendations to now be conveyed to Forum Leaders to consider.
On maritime boundaries, Ministers commended international support for the 2021 Forum Leaders Declaration on Preserving Maritime Zones in the face of Climate Change-Related Sea-Level Rise including from the Alliance of Small Island States (AOSIS), the Climate Vulnerable Forum, and the Organisation of African, Caribbean and Pacific States (OACPS) as a key step towards global recognition of this interpretation of UNCLOS.
Ministers also endorsed plans to convene a 2022 Regional Conference on Statehood and the Protection of Persons affected by sea-level rise, planned for 05 – 09 September 2022.
In recognising the power of Blue Pacific advocacy on the global stage, Foreign Ministers welcomed the successful conclusion on negotiations on the World Trade Organisation Fisheries Subsides Agreement and the excellent work by Fiji and the Member countries who through the Forum and the Pacific Way were able to work together in solidarity to reach the successful conclusion of these negotiations.
To further strengthen Blue Pacific international advocacy, Foreign Ministers commenced a Forum process to more consistently elevate Pacific candidates to international positions and develop a pipeline for competitive candidates, with a particular focus on encouraging and empowering the participation of Pacific women.
SOURCE: PIFS/PACNEWS