By Pita Ligaiula in Lisbon, Portugal
Voices of Small scale fisheries are often undervalued and unrecognised in global food systems, delegates and experts at the UN Oceans conference heard this week.
The interactive dialogue — "Making Fisheries Sustainable and Ensuring Access to Marine Resources and Markets for Small-Scale Fishers" — looked at how subsidies exacerbate the problems of overcapacity and overfishing and are often a source of unfair competition against small-scale fishers.
The dialogue explored ways to protect their valuable stocks from over exploitation.
Pacific Oceans Commissioner and Forum Secretary-General, Henry Puna took stock of efforts by the "Blue Pacific" initiative to combat overfishing
He said that several agencies are involved in the sustainable management and development of fisheries resources, including the Pacific Islands Forum Fisheries Agency(FFA).
It works in parallel with the Parties to the Nauru Agreement (PNA), a subregional organisation comprised of eight countries and one territory which control 50 percent of the world's tuna supply.
He explained that these agencies work in cooperation with the Western and Central Pacific Fisheries Commission(WCPFC), a regional organisation, to sustainably manage tuna in that area which is the only ocean that has healthy tuna stocks — thanks to cooperative management by the Parties to the Nauru Agreement, whose members derive 30-90 percent of their revenue from tuna fishing licence fees.
"Tuna fisheries in other ocean areas across the globe have issues of overfishing and we encourage them to learn from the Pacific region. Our Blue Pacific Ocean remains sustainable because of the robust zone-based fisheries management regimes including high levels of cooperation and coordination to combat and deter IUU fishing in the Pacific.
"This is evidence that 'zone-based fisheries management' approach is a successful approach to fisheries management. Our region fully supports this approach and calls on distant water fishing nations to recognise and support Pacific SIDS undertake effective management of their tuna fisheries within their Exclusive Economic Zones," said Puna.
Despite the many potential opportunities our vast ocean provides, our fisheries resources remains a key priority to us, said Puna.
"As a collective, our region will continue to work to protect this resource for the people of the Pacific from the devastating impacts of climate change and disasters. For those tuna-dependent economies, the impact of climate variations on the redistribution of tuna will have significant revenue implications," he said.
Puna said the voices of the Pacific were also heard at the 12th World Trade Organisation (WTO) Ministerial Conference, where a "partial agreement" on fisheries subsidies was reached.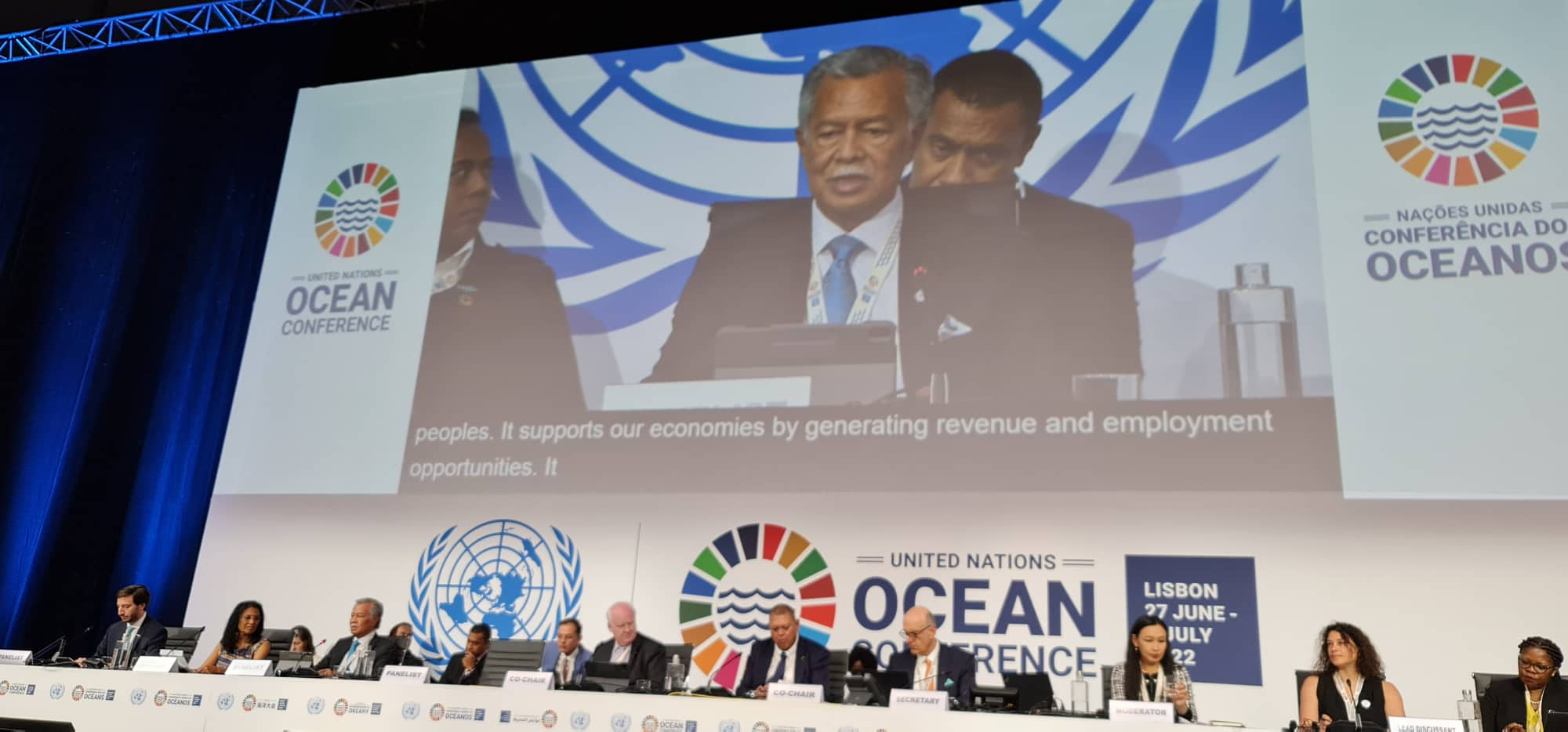 The Pacific islands are keen to obtain flexibilities that offer developing WTO members the political space they need to develop their fisheries and called on the WTO and major subsidisers to commit to further negotiations to include overcapacity and overfishing and reach a comprehensive agreement as soon as possible.
Puna said experts estimate that 54 percent of high seas fishing grounds would be unprofitable if subsidies were eliminated.
He said academic estimates of total annual global fisheries subsidies in 2018 amount to about US$35 billion, including about US$22 billion in capacity-enhancing subsidies.
"Unless overcapacity and overfishing are addressed, large subsidisers will continue to subsidise their fleets, creating unfair competition to the detriment of smaller developing coastal states and importantly, continue their unsustainable race to fish," said Forum SG Puna.
Solomon Islands Foreign Minister Jeremaih Manele, speaking for the Pacific small island developing States (PSIDS), argued that small-scale fisheries are essential to the way of life of people in the Pacific and voiced support for a legally binding instrument on plastic pollution.
"The world needs to take urgent and firm actions including the availing of dedicated financial resources and technologies to island countries to sustainably conserve, use and protect ocean resources to meet the needs of our present and future generations."
French Polynesia's Minister of Culture and Marine Resources Heremoana Maamaatuaiahutapu told the conference that action needs to be taken to combat illegal fishing in the Pacific.
He called for an ecosystem approach to the management of coastal fisheries, advocating for more financing and investment in the artisanal fisheries sector.
"There are zones beyond areas that are under no jurisdictions that need to be absolutely protected to avoid an irresponsible exploitation, which is already happening due to fishing.
"French Polynesia is making an effort but we need every fishing fleet that is in the Pacific and in international waters to respect the rules.
"For example, our fishing represents 6,000 tonnes, which means 0.01 percent of the fishing quota in the Pacific.
"Illegal fishing in the Pacific represents 300,000 tonnes of Tuna that disappear," said Heremoana.
Marshall Islands Minister of Natural Resources and Commerce, John Silk said the question hinges on whether partnerships can help small island developing States build capacity to improve surveillance and combat illegal, unreported and unregulated fishing on one hand, and address the sustainable development of fisheries on the other.
"Up to a third of our own Pacific fish are taken, in fact, robbed, from our waters, and we welcome new technology partnerships to boost our monitoring capacity," he said
He called for islands to be "truly in control" of their own resources.
"We are failing our oceans and failing our future generations. As island nations, these threats are real, and have far more devastating consequences now than ever."
Director of One Ocean Hub and Professor of Global Environmental Law at the University of Strathclyde Law School highlighted the importance of taking a human rights approach to fisheries.
"Equally essential is recognising the collective and customary rights of small-scale fishermen, facilitating their access to justice and involving them in decisions that affect them".
She also called for the integrated management of marine resources, describing these fishermen as "guardians of the water".
The Locally-Managed Marine Area (LMMA) Network International is also supporting a global call to action for small-scale fishers.
"Small-scale fishers are the largest group of ocean users on the planet, and their fisheries provide food or income to half a billion people. Yet in decision-making processes, their needs often come second to large corporate interests, and they are generally excluded from policy decisions that disproportionately affect their lives and livelihoods.
Without solid action now, the Lisbon conference threatens to further undermine community interests" the organisation said.
Dr Hugh Govan, Adviser Advocacy and Policy, the LMMA Network, said: "The theme of the conference is innovation. What would actually be innovative is governments and donors recognising the important role that coastal fishing communities already play, not only in feeding the world, but in managing these vital resources and habitats. Examples of communities managing fisheries resources and coastal ecosystems in collaboration with governments are increasing across the globe. But what is urgently needed is far more commitment and ambition from governments to recognise and protect the rights of these forgotten millions from the impacts of industrial fishing and unbridled development."
Lavenia Naivalu, the Nacula District representative from Yasawa Islands in Fiji representing LMMA Network International was part of this coalition and spoke at two event calling for accountable and transparent fisheries management plans and policies that include indigenous and local communities and women fishers.
Communities have been and are responsible for their fisheries management plans, and so how fisheries are managed needs accountability and transparency, said Naivalu, the first woman District Representative in Fiji.
These questions that Naivalu posed seek to bring attention to a critical issue in fisheries management, and that is the accountability and transparency of fisheries management plans and policies.
If the future of food is blue, government, fishers and communities themselves need to work together. The monitoring of fisheries health and productivity also needs to gender-inclusive and information should be published to the minimum standards of the Fisheries Transparency Initiative.
Naivalu also called for better participatory processes to ensure small-scale fisheries communities are made aware of outside-funded and supported projects and commitments, including foreign aid projects and financing.
SOURCE: PACNEWS