Two U.S lawmakers introduced legislation on Wednesday that aims to shift more U.S foreign aid funding to the Indo-Pacific region in response to what one described as "China's bid for hegemony" in the region.
The Indo-Pacific Engagement Act is co-sponsored by Rep Ami Bera, a Democrat from California, and Rep Steve Chabot, a Republican from Ohio. It would require the U.S Department of State and the U.S Agency for International Development to report to Congress on the resources and activities that are required to achieve U.S. policy objectives in the region and to provide "a detailed plan to expand U.S diplomatic engagement and foreign assistance presence in the Pacific Island nations within the next five years."
The legislation reflects growing concern that America's current development efforts are losing in a battle for influence in a region that is home to nearly 60 percent of the world's population but accounts for only 11 percent of U.S President Joe Biden's fiscal year 2023 budget request for U.S foreign assistance.
"Despite previous and current Administrations recognising the importance of the Indo-Pacific in U.S national security, for decades we have routinely underinvested in both diplomatic and aid assistance, setting the stage for China to expand its influence and attempt to define the rules in the region," Bera said in a statement.
"The People's Republic of China's bid for hegemony in the Indo-Pacific is today's problem; not a problem for five or ten years down the road. That is why it is deeply frustrating that year after year administrations of both parties produce a budget that places the Indo-Pacific near the bottom of our national priorities," said Chabot.
The alarm bells and calls for change have grown sharper in recent weeks — particularly in the wake of a security pact signed by China and the Solomon Islands in mid-April, which the U.S and its allies fear could allow Chinese warships to dock at the strategically important archipelago.
The deal is part of a larger effort by China to court small Pacific island states that together have jurisdiction over a vast, resource-rich stretch of ocean that's home to critical shipping lanes. In recent years, Beijing has flooded the chain of islands with infrastructure and development funding, leading to charges that the U.S is now playing catch-up.
"We are in a generational economic contest with China that couldn't have possibly higher stakes," Kaush Arha, a senior fellow in the Atlantic Council's Global China Hub and in the Krach Institute for Tech Diplomacy at Purdue University, told Devex.
Specifically, those stakes are whether global economic rules are set by authoritarian governments or liberal democracies, said Arha, who served as USAID's senior adviser on strategic engagement and coordinated the agency's China-related policies during the administration of former President Donald Trump.
"There's a huge gap in America about saying China is a strategic threat and then what do you do about it," Arha said.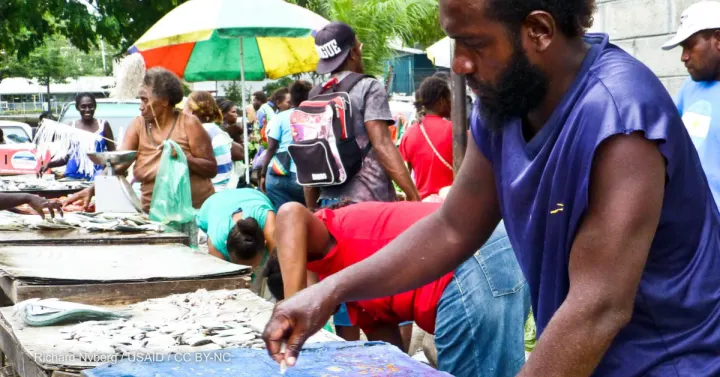 The Trump administration's "Clear Choice" agenda, which Arha helped to create and subsequently led, marked a sharp pivot from the approach taken by former President Barack Obama's administration, which attempted to establish global development and climate change as an area of cooperation between the U.S and China.
During the 2015 United Nations General Assembly, USAID signed a memorandum of understanding with China to collaborate on global food security, public health and global health security, humanitarian assistance and disaster response, and multilateral institutions.
Arha told Devex that he was "keen on dissolving that MOU" during his time at USAID, describing it as a "wrong and delusional" approach that failed to account for the fact that China's development efforts are "all explicitly dedicated to serving the Chinese Community Party."
"The failure of that engagement is where we find ourselves today," he said.
Arha said the U.S government should rethink how it organises the multiple agencies that are each responsible for pieces of the economic diplomacy and development efforts that can provide lower-income countries with an alternative to China. He recently proposed the creation of a new lead agency that would coordinate these activities in an article co-authored by Lester Munson, former staff director for the Senate Foreign Relations Committee and principal at BGR Group.
"Consolidation is long overdue," said Munson, describing the proposal as a "long-term policy recommendation" that a future Congress or presidential administration might consider.
But others say a binary approach that forces Indo-Pacific nations to choose between the U.S and China could backfire on Washington given the region's economic reliance on China, particularly on its massive Belt and Road investments.
Charles Kenny and Scott Morris, senior fellows at the Centre for Global Development, argue that instead of trying to compete with China on infrastructure, the U.S. should leverage its strengths, namely its higher education system.
"Rather than trying to beat China at its own game, the United States needs to recommit to a vision of planetary prosperity through global cooperation, openness, transparency, and equal opportunity," they write in a 22 June article in Foreign Affairs.
"When it comes to physical capital, the World Bank and regional development banks are best suited to accomplish those goals. When it comes to human capital, the United States can and should take the lead, reopening its doors to students and scholars," they argue.
Some small island nations are wary of aligning themselves with either China or the U.S. During a recent 10-country Pacific tour, Chinese Foreign Minister Wang Yi failed to seal a regional deal on security and development. Reuters reported that in a letter ahead of Yi's tour, Micronesian President David Panuelo warned Pacific island leaders against getting caught up in a new "Cold War" between China and the West.
"Whoever wins in such a conflict, we will once again be the collateral damage as we become stuck in the crossfire of the bigger countries," he wrote.
SOURCE: DEVEX/PACNEWS