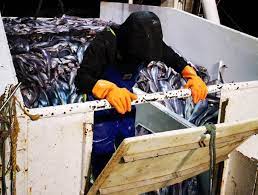 Tongan, Samoan and ni-Vanuatu horticulture workers have been redeployed or flown home, to the disappointment of the country's biggest fishing companies who had asked for help filling hundreds of jobs in their processing plants.
Between 200 and 500 workers still had time left on their Recognised Seasonal Employer visas, at the end of fruit-picking season in Nelson and Marlborough. Sealord and Talley' wrote to the immigration minister asking that workers be given the chance to transfer over to better-paid seafood jobs, to help address a big labour shortage at the start of New Zealand's lucrative hoki season.
Craig Boote, the chief executive of fishing company Westfleet, said the industry was in shock. "I flew up to Auckland at 6am, and 80 percent of the plane was full of these island workers going home. I just cannot work it out.
"I could do with another 50 people in my Greymouth factory right now. The hoki season is about to start and Talley's, Sealord, we all need people," he told Newsroom.
"So the seafood industry applied to Immigration NZ to see if we could keep these guys out here for another three months.2
"They rejected it last week and say because the original application was picking fruit, they're going home."
"We're actually punch-drunk. The whole industry is in total disarray and shock at the moment."
"We're not going to be able to pull our hoki out of the water this year because we can't get people. We've got the sales, we can catch it, the fishery is in great shape – but we can't process it because we haven't got staff."
Outgoing Immigration Minister Kris Faafoi wrote to Sealord chief executive Doug Paulin, acknowledging redeploying the workers to the seafood sector would meet a short-term labour need. "I consider it is more appropriate to properly assess both the sector's willingness and ability to participate in a Pacific programme, and Pacific governments' interest in such a programme, before any steps are taken.
"I acknowledge the seafood sector's ongoing labour shortages and I hope that the Government's recent decision to increase the cap on seafood process workers to 200 and reduce the wage threshold to $24 (US$15) per hour will go some way towards easing workforce pressures."
A wage of $24 (US$15) an hour would be more than most workers earned picking fruit. But the opportunity to bring in 200 workers doesn't come into force until July; meanwhile, there is no indication that the existing fruit-pickers were offered the chance to stay on to work in the nearby seafood factories.
The decision to decline the seafood industry's plea was a little more complex than Boote's description.
Part of the problem was that Covid border restrictions meant there were few repatriation flights home to Tonga, Samoa, Vanuatu and the Solomon Islands. Employers in the horticulture and viticulture industries were surveyed last month, and said they could take on some of the workers who weren't yet able to be sent home. Some pickers have been redeployed to growers in the Bay of Plenty and Pukekohe.
Sealord human resources manager Dawn Cooper said they had been talking to horticulture employers about the problem, since April. "They were coping with this extra 500 people that wouldn't normally be needed at that point.
"We were desperate. We were about 250 people short for what we normally are at this time of year. Now we've just got used to the idea that they said 'no', so we're having to move on."
Later this month, chief executive Doug Paulin, Cooper and other executives will begin doing shifts on the processing line, to help manage the workforce shortage. "That's when it really starts to pick up for hoki season, and we are all scheduled in on the full line."
Cooper said the industry appreciated the regulatory change allocated up to 200 seafood process worker visas.
But it is too little, too late. "Unfortunately, Sealord has been unable to utilise this new category with hoki season commencing in May with the logistics and timeframes to identify countries for workers, agreeing contractual arrangements with agencies, selecting workers then applying for visas before any travel," she said.
"The earliest Sealord was able to have this in place was August, which didn't make commercial sense for the setup and processing costs when the bulk of hoki season would have passed."
Talley's Group chief executive Tony Hazlett said his company had initially heard of 200 RSE workers stuck in New Zealand because the Tongan border was closed. "Understanding that there was no horticulture or viticulture work available for them, we advised the Government that we had positions available and would be happy to employ them," he said.
"Unfortunately this did not eventuate before the borders reopened for them and they could return home.
"The seafood sector continues to advocate for access to RSE and more permanent workers, and if there is a way for any RSE worker to transfer from horticulture and viticulture, it would be extremely helpful, particularly when we are in such a tight labour market."
About 180 of the Pacific workers had been employed picking apples on 200 hectares at Vailima Orchard, south of Nelson. Director Matthew Hoddy said moving the workers to the seafood industry would have been a good option. But instead, horticulture businesses were working within their industry to smooth the bumps.
"We had 27 guys go up for four weeks to a kiwifruit pack-house just out of South Auckland, in Pukekohe. And those people couldn't get their RSE workers in from Vanuatu, so it bridged a gap."
Hoddy chairs a governance group for Nelson regional growers. "You've got people that did about four weeks' work somewhere else until the flights started coming onstream. So it was biding time but keeping everyone informed.
"A lot of the longtermers had set a target at the end of the harvest as when they wanted to go back home. And so it's quite hard to get someone to want to spend longer when it's on their mind that they're ready to go home.
"An orchard is a dynamic thing. There's always stuff to do. So no one was ever worrying about work running out – it was just that you're taking the work from a later part of the year when you probably would have done it yourself."
Sam Foley, the manager of international and humanitarian immigration policy at the Ministry of Business and Innovation, confirmed there were a number of Recognised Seasonable Employers workers who had been in New Zealand for a significant period of time because of Covid. "Some have been here since 2020, and have been unable to return home," Foley said.
"The priority of employers, and the New Zealand and Pacific Governments, is to repatriate these workers to enable them to return home to their families.
"For those workers who are unable to leave in the short term, a temporary change to RSE settings is planned to enable them to move between RSE employers including to other regions. The horticulture and viticulture industries have advised the Government that there is enough work within the RSE scheme for any RSE workers while they remain in New Zealand."
The RSE scheme is designed to allow the horticulture and viticulture industries to recruit workers from overseas, generally from the Pacific, for seasonal work when there are not enough New Zealand workers. Employers in the scheme are required to meet certain standards of pastoral care, and the scheme provides enforcement options against non-compliant employers.
"Allowing RSE workers to transfer into roles in different sectors, even as a temporary measure, would raise expectations of ongoing access from business, workers, and Pacific Island governments and would make it difficult for the Government to ensure the same high standards of pastoral care that is required from RSE employers," Foley said. "In this case our advice from the horticulture and viticulture industry was that this would not be necessary."
Foley noted that from 04 July, employers in the seafood industry would be able to recruit migrant workers under the new Accredited Employer Work Visa, where there was a genuine shortage of New Zealand workers. The Government was also progressing a sector agreement for the seafood industry.
Another of the biggest seafood companies is Auckland-based Sanford, which also has a plant in Nelson.
Colin Williams, the general manager of fishing, said the company had certainly noticed the increase in costs across all aspects of our operations. Fuel was a problem for the smaller operators: "Two of the contract fishers we work with, who have their own boats and crews, have recently told us they are exiting fishing because of spiralling fuel costs."
But he said they were also affected by rising labour costs. "It's a highly inflationary environment we find ourselves in, and it is difficult to know when this situation will change, said Williams.
SOURCE: NEWSHUB/PACNEWS