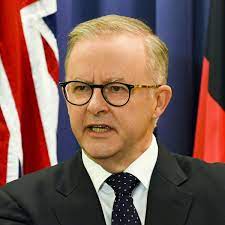 Australian Prime Minister Anthony Albanese has said he will "engage" with East Timor, after the South-East Asian nation agreed to sign a slew of new agreements with Beijing across areas including healthcare and economic co-operation.
On Friday, Chinese foreign minister Wang Yi travelled to Dili where he was expected to sign off on the deals.
Albanese, travel to Jakarta on Sunday for the Annual Leaders' Meeting with Indonesian President Joko Widodo, acknowledged that his government would need to work hard to improve Australia's regional relationships.
"It will take time to rebuild relations, but what we know is that there is strategic competition in the region and that requires Australia to step up," he told reporters in Adelaide.
"We will engage with Timor-Leste, and we will engage with all of the countries within our region."
East Timor government figures confirmed the deals with Beijing were to include an agreement for Chinese state TV to digitise the country's national radio and television services. It comes as the ABC prepares to expand its presence in the region.
The move also comes after Wang failed to secure a consensus on a 10-country security and trade pact while on a tour of Pacific Island nations earlier this week.
Blaming the previous Coalition government for Australia's diminishing regional influence, Albanese said his government would increase foreign aid spending.
"The former government cut foreign aid, cut engagement with our region, and we're seeing some of the consequences of that play out," he said.
"We have a plan for increased aid in South-East Asia as well as the Pacific. We have plans on treating our neighbours, which are sovereign nations, with respect."
However, while talking up his relationship with East Timor's President Jose Ramos-Horta, who was re-elected in March, Albanese appeared to refer to him incorrectly as the nation's prime minister.
"I have a good relationship with the new incoming prime minister in terms of Jose Ramos-Horta, so one of the leaders of Timor-Leste. They're going through, of course, like PNG, some electoral processes at the moment for other positions," he said.
The new government has wasted no time in trying to rebuild relationships between Australia and its neighbours. After being sworn in as the prime minister, Albanese almost immediately travelled to Tokyo for a meeting with the Quad countries, and Foreign Affairs Minister Penny Wong has already visited several Pacific Island nations.
Wong, Trade Minister Don Farrell, and Industry Minister Ed Husic will join Albanese as he travels to Indonesia for the leaders' meeting.
Albanese and Widodo are expected to discuss trade and investment deals, their regional interests, and co-operation on climate and energy issues.
The final point will be of particular focus as the government seeks to spruik a proposed $200 million (US$144) climate and infrastructure fund with Indonesia, as part of a potential Indonesia‑Australia Comprehensive Economic Partnership Agreement.
Albanese said several world leaders welcomed Labor's climate agenda, and that Australia would no longer "be in the naughty corner" at international climate conferences
SOURCE: AFP/PACNEWS