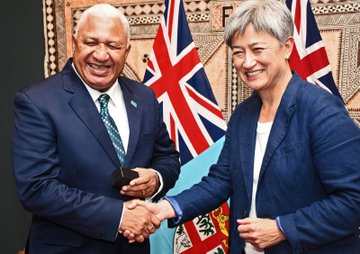 Fijian Prime Minister Frank Bainimarama said on Saturday he had a "wonderful meeting" with Australia's Foreign Minister Penny Wong, who travelled to Fiji days after being sworn in to show the new government's attention to the Pacific Islands.
"Fiji is not anyone's backyard – we are a part of a Pacific family," Bainimarama wrote on Twitter, posting a picture of himself and Penny Wong shaking hands.
He appeared to be taking a veiled swipe at Scott Morrison, the conservative prime minister ousted in an election last weekend, who once referred to the Pacific as Australia's "backyard".
"Our greatest concern isn't geopolitics – it's climate change," Bainimarama wrote. "In that spirit, I had a wonderful meeting with Foreign Minister @SenatorWong to strengthen our Vuvale Partnership with Australia", he said, using the Fijian word for "friendship".
After defeating Morrison's coalition in an election that had climate change as a major theme, Labor Party leader Anthony Albanese was sworn in last Monday as Australia's 31st prime minister, and Wong as foreign minister.
Bainimarama said the bilateral relations between the two nations has strengthened through the Vuvale Partnership, and that our solidarity is important now more than ever to overcome the unprecedented challenges we face and to build a resilient and sustainable Pacific.
The Prime Minister acknowledged Australia's remarkable support to Fiji and the region, through expanded cooperation in various sectors including defence and security, health, education, gender equality, employment, humanitarian relief and disaster response, amongst others.
He is optimistic that together the two nations will continue to work closely to overcome common challenges, achieve shared aspirations, and build a unified and stronger Pacific family.
Bainimarama commended the Australian Prime Minister, Albanese for his strong mandate on climate change.
The Prime Minister said as Fiji prepares to host the Pacific Island Leaders Meeting in July this year, the first in-person meeting of Forum Leaders since 2019, an invitation would be extended to Prime Minister Albanese to attend meeting with the Pacific Leaders.
He welcomed the announcement made by Minister Wong on the Australian Government's pledge of AUD$525 million (US$375 million) as part of the Official Development Assistance (ODA) to the Pacific over the next four years.
The Prime Minister reaffirmed the Fijian Government's commitment to work closely with the Australian Government in addressing the common challenges, especially climate change and the socioeconomic impacts of the pandemic.
The two leaders also discussed potential areas of cooperation with prospects in trade and investment, tourism, economy, Pacific Australia Labour Mobility, United Nations Peacekeeping and Humanitarian Assistance and Disaster Response.
The Prime Minister conveyed the Fijian Government's best wishes to Prime Minister Anthony Albanese and the people of Australia for their continued prosperity.
He extended his sincere appreciation to Minister Wong for her commitment to the Pacific family, and assured her of the Fijian Government's support and wished her well for the new ministerial role.
Australia's Foreign Minister, Senator Wong, said she was delighted to arrive in Fiji on only her fourth day in office.
She wanted her visit to highlight the importance Australia places on its relationship with Fiji and the Pacific region.
"I was delighted to meet with Prime Minister Bainimarama to strengthen Australia's commitment to the Fiji-Australia Vuvale Partnership."
"I valued the opportunity to listen to the Prime Minister and learn from his important insights as a global leader on climate change," said Senator Wong.
"Regional unity has never been more important as we face unprecedented challenges with COVID, climate change and strategic contest. I look forward to working with Fiji and our Pacific family to ensure our Blue Pacific remains strong and prosperous," she said.
SOURCE: REUTERS/FIJI GOVT/PACNEWS