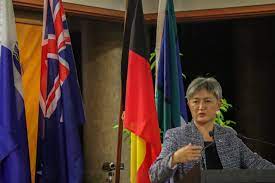 Australia has announced that they will allow seasonal workers to bring their families with them to Australia and create a new pathway to 3,000 members of the Pacific family getting resident permanency per year.
In a major announcement, new Australian Foreign Minister Penny Wong speaking in Suva Thursday at the Pacific Islands Forum Secretariat stated that for generations Pacific islanders have been adding to and shaping Australian culture.
"And we welcome the contribution people of Pacific heritage bring to Australia. We want to look at ways to continue build on those links. Australia will do more and do it differently."
She added: "We will ensure that those Pacific islanders come to work in Australia are treated fairly with better conditions. We will allow workers to bring their families and we will create a Pacific engagement visa to provide a pathway to permanency with 3,000 members of our Pacific family per year."
Wong stressed: "But ultimately our relationship with our Pacific family is not a sweet of initiatives it can not be counted only in dollars or MOUs—so much more –because nothing will change our geography, our proximity."
Solomon Islands has over the past two years sent more than 3,000 workers working in various states in Australia as part of the seasonal workers programme.
The latest announcement is expected to be well received by regional governments.
SOURCE: SBM/PACNEWS