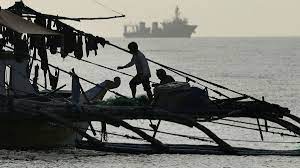 The U.S, Japan, Australia and India have launched a satellite-based initiative to help countries in the Indo-Pacific region track illegal fishing and unconventional maritime militias, in their latest effort to counter China.
President Joe Biden and the other leaders of the Quad security grouping unveiled the scheme in Tokyo at their fourth summit in just over a year.
The Quad, which was revived in 2017 after a nine-year hiatus, is the latest U.S effort to deepen engagement in the region. But Russia's invasion of Ukraine has also exposed divisions within the group, as India has refused to condemn Moscow for the war.
"It is natural that there are differences in position," Japan's prime minister Fumio Kishida said at a news conference on Tuesday following the meeting. "But the four countries, including India, have reached a common understanding that a unilateral attempt to change the status quo by force in any region is not acceptable."
The summit was held a day after Biden said he would use force to defend Taiwan from a Chinese attack, in comments that appeared to overturn a decades-old US policy of "strategic ambiguity" that does not make clear whether Washington would come to the self-governing island's defence.
The White House rolled back Biden's remark, saying U.S policy had not changed. But it was the third time Biden has made similarly confusing comments on Taiwan.
The Indo-Pacific Partnership for Maritime Domain Awareness initiative, which was first reported by the Financial Times, is designed to help countries in the region boost maritime capabilities to tackle human and weapons trafficking, illegal fishing and Chinese maritime militias. The militias are supposedly engaged in commercial fishing but instead enable Chinese coast guard and naval activity.
"This addresses a real need…. from almost across the region, be it from south-east Asia, be it in the Pacific, be it in south Asia, which is for much better maritime domain awareness," said a senior U.S official.
"The ability to know what is happening in countries' territorial waters and in their exclusive economic zones."
Another senior U.S official said the Quad would provide funding to work with a commercial satellite-based tracking service that would offer near real-time maritime intelligence to countries.
It would monitor radio frequencies and radar signals that would allow countries to track vessels that have turned off AIS (automatic identification systems) transponders to avoid detection.
The official said the benefit of using a commercial service was that it removed concerns about sharing classified information and would propel the development of a multilateral system of information sharing.
She added that the service was a relatively low-cost and effective solution. The information would be shared via a network of regional centres — in India, Singapore, Vanuatu and the Solomon Islands — and directly to countries in some cases.
Beyond the maritime initiative, the Quad partners agreed to enhance co-operation in cyber security, vaccines, climate and infrastructure.
"In a short time, we've shown the Quad isn't just a passing fad. We mean business," Biden said.
Ahead of the summit, some Japanese officials had played down expectations of significant policy initiatives, saying it was more a forum for dialogue with India.
"China may feel alarmed that the Quad could develop into an Asian version of Nato but that's far from reality," said Ken Jimbo, an international security expert at Keio University. "Having a framework for the leaders to gather and discuss is the Quad's symbolic significance." .
SOURCE: THE FINANCIAL TIMES/PACNEWS