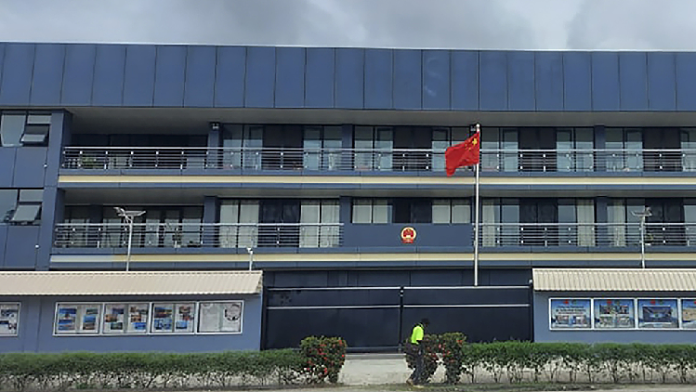 China has defended its Solomon Islands security pact in a formal response to a meeting last week with Australia's Department of Foreign Affairs and Trade, declaring it is a "direct stakeholder" in the security of the South Pacific.
China's Foreign Ministry said an official from its Department of North American and Oceanian Affairs spoke with a DFAT official via video link.
Australia has raised concerns with China about its new security pact with the Solomon Islands, and the issue has played into the federal election next week.
The Morrison government has said the agreement between China and the Solomon Islands undermines Australia's own bilateral security treaty with the archipelago Pacific nation. There are fears China will be able to establish a naval base on the main island and deploy its military from there.
"It [Solomons security pact] proceeds in parallel with and is not in conflict with the existing regional security cooperation arrangements. Solomon Islands and South Pacific islands are not the 'backyard' of any country," China's Foreign Ministry said in a statement.
"China is a direct stakeholder in the security of the South Pacific region. China has no selfish interests in the South Pacific, does not seek 'spheres of influence' or engage in bullying and coercion, and will unswervingly advance practical cooperation with South Pacific island countries in various fields."
While last week's meeting did not involve senior officials from either government, formal interactions between both countries have been rare in the past three years.
Meeting participants also discussed other regional issues, including the pandemic and economic recovery, fisheries and oceans, infrastructure, climate change, and disaster prevention.
China has denied it plans to build a military base on the Solomon Islands. "Relevant cooperation aims to help Solomon Islands maintain domestic stability and social security, which is in the common interests of countries in the region, and does not involve or target third parties," the Foreign Ministry said.
A leaked memorandum of understanding between the Solomon Islands government and China's Commerce Ministry details proposals to build wharves and undersea cables, and co-operate on undersea resources projects and deep-sea fishing.
SOURCE: AFR/PACNEWS