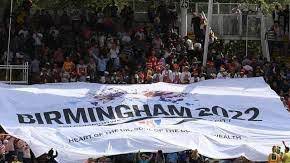 -Commonwealth Games Australia has partnered with the Australian Government to provide support for Pacific island athletes aiming to be part of the Commonwealth Games in Birmingham, but with only three months to go, exactly how will they be able to help?
The aim is to support athletes and coaches from Commonwealth Pacific countries to achieve qualification, and in the case of para-athletes, classification, with a mixed group of 25 from the Pacific having already attended a training camp in the host city.
The second part of the plan will be preparation and competition opportunities in the lead up to the games for athletes who are confirmed as going, and the focus will be on athletics, swimming, table tennis, para-powerlifting, and potentially beach volleyball and lawn bowls.
In some cases athletes and coaches will travel to Australia to train, to consult sports scientists and where possible to compete.
Craig Phillips, the Chief Executive of Commonwealth Games Australia, says he would love to have seen the partnership take off sooner, but he's confident that Pacific athletes can still reap the benefits.
"It's all about them getting best prepared as possible off the back of a pretty difficult two years for everybody, with COVID. So in a lot of cases, for a lot of our Pacific colleagues, it's really the first opportunity they're getting to get their athletes out and traveling again and preparing and competing in the lead up to the Birmingham games," said Phillips.
And while the prospect of producing elite athletes in just three months is an unlikely one, CGA's CEO says there can be an immediate impact.
"What we find sometimes in these activities, because of their lack of opportunity around access to things like proper nutrition, sports scientists, strength and conditioning, proper technical coaching in some sports, what we find is whether it means they end up getting amongst medals or in the top eight, some athletes very quickly have a significant performance increase"
Discussions with government over CGA's programme for the Pacific actually began two years ago, but stalled once the pandemic took hold. However Craig Phillips is looking to the long term now, and keen to make the initiative a permanent one, but is that achievable?
"I think it is. And part of our discussions with the government has been – and this is very much with our colleagues at the Australian Olympic Committee, and also Paralympics Australia – what the longer term could look like," Phillips told Pacific Beat.
"We have a really good opportunity here in Australia. We'll have the Commonwealth Games here in 2026, Olympics and Paralympics in 2032, and the Pacific very much regards them as being their home games as well. So we can see using those milestone events in the Pacific as ways of actually helping with athlete pathways, athlete development, coach development, and developing in-country systems."
The 2026 Commonwealth Games will be hosted jointly by several of Victoria's regional cities, so might such a model be a template for the Pacific to use by putting in a multi-country bid?
"The CGF (Commonwealth Games Federation) has adopted a new strategic road-map, which recognises there should be flexibility around delivery models for the Games," said Phillips.
"It talks about co-hosting as part of that model, so if our neighbours in the Pacific want to be ambitious and do that on a multi-nation event, I certainly think it's got some merit," he said.
SOURCE: ABC/PACNEWS