White House delegation led by Indo-Pacific Coordinator Kurt Campbell on Wednesday, met Fiji's Prime minister, Frank Bainimarama in Suva to discuss regional security.
The meeting came as the United States, Japan, New Zealand and Australia shared concerns about Solomom Islands security pact with China "and its serious risks to a free and open Indo-Pacific", the White House said earlier.
"On the heels of Secretary Blinken's historic visit, I met with top American officials to strengthen Fiji-U. S cooperation for an open and secure Blue Pacific. I made clear that Fiji sees security as synonymous with resilience, new blue and green jobs, and global net-zero emissions," said Bainimarama on twitter.
Campbell also met with Pacific Islands Forum officials.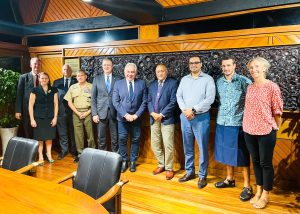 "Meeting with PIF @ForumSEC was a valuable opportunity for Deputy Assistant to the President Campbell, @USAsiaPacific Assistant Secretary Kritenbrink & Deputy Commander @INDOPACOM LTG Sklenka to consult with this key regional partner on shared challenges & encourage collaboration," the U.S Embassy in Suva said on twitter.
He will also travel to Papua New Guinea.
The Solomons has faced a flurry of calls from Western countries and neighbours not to go ahead with the pact.
Australia is concerned it could open the door to a Chinese military presence less than 2,000 km (1,200 miles) away.
But Solomon Islands Prime Minister Manasseh Sogavare confirmed that the pact had been sealed by foreign ministers from the two countries, a day after China announced the unexpectedly hasty signing.
The security pact is a major inroad for China in the resource-rich Pacific, where the United States has long held sway and which its allies, Australia and New Zealand, have for decades seen as their "backyard".
The Solomon Islands said last month it was creating the partnership with China to tackle security threats and ensure a safe environment for investment as it diversifies its security relations.
"I ask all our neighbours, friends and partners to respect the sovereign interests of the Solomon Islands on the assurance that the decision will not adversely impact or undermine the peace and harmony of our region," Prime Minister Sogavare told parliament.
SOURCE: PACNEWS/REUTERS/PACNEWS