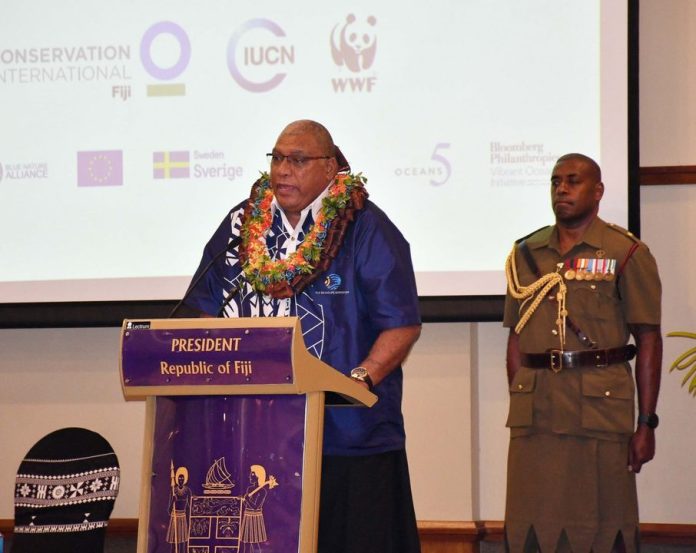 A symposium to review the efforts and the impact on the execution of Fiji's commitment to the UN Oceans Conference (UNOC), to review Fiji's efforts to date, and to define Fiji's progress towards the achievement of the long-term marine reserve and conservation priorities was opened by President Ratu Wiliame Maivalili Katonivere, in Suva Wednesday.
Speaking at the event, which is a first of its kind for the country and jointly organised between the Fijian Government, Fiji's civil society, and NGO's from the conservation community, he said, "the partnership is testament of the Fijian Government's commitment to the cause of the conservation of nature, as well as the long-standing cooperation between the Fijian Government and its Non-Governmental Organisation Partners to conserve our unique, yet vulnerable, ecosystems".
President Katonivere added that Fiji possesses a large maritime domain that contributes significantly to the national economy and provides food, income, and recreation, as well as many other benefits to our coastal communities.
He said, "Our ocean is home to a wealth of globally significant biodiversity that remains significant to our cultures & development and attracts tourists from around the globe."
"As a member of the Blue Pacific Continent, Fiji is proudly and confidently a Large Ocean State. Our people and communities have lived in harmony with nature and the sea for generations and possess an intimate connection with the ocean. This linking dictates that we be resilient stewards of the oceanic Pacific continent."
President Katonivere stated that with regard to the issues of climate change, the country calls for specific, yet ambitious, action globally, and our collective leadership in the climate-ocean nexus extends beyond our borders, across our Pacific seas, and into other parts of the world.
"As we move through this decade of oceans, we must be uncompromising and clear — there is no climate action without ocean action," said President Katonivere.
"At the launch of this first ever Fiji Seascapes Symposium, I am hopeful that this three-day event will continue to reiterate and emphasise Fiji's existing commitments and actions to protect its ocean home, and to conserve, as well as manage its marine resources in the face of climate change," he said.
SOURCE: FIJI GOVT/PACNEWS