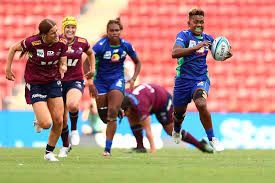 The Super W finals have been locked in, with the Grand Final set to be played as part of Super Round in Melbourne.
Fijiana Drua has already qualified for the Super W Grand Final, which will take place at AAMI Park on Saturday 23 April at 2 pm, having finished first in the regular season.
They will face the winner of the NSW Waratahs and Queensland Reds, with their semi-final slated for Eric Tweedale Oval on Thursday 14 April at 6:00pm.
"The 2022 season has been the biggest year to date for Buildcorp Super W, so it's incredibly fitting that we'll be wrapping the season with the grand final taking centre stage at the heart of action as part of the inaugural Super Round Melbourne," RA CEO Andy Marinos said in a statement.
"We've seen a lot of firsts this year, as we welcomed an international team in the Fijiana Drua for the first time and played more double-headers with Super Rugby than ever before. This announcement is another great milestone for our women's game.
"I would like to extend our thanks to our partners Buildcorp for their ongoing support of women's Rugby, Nine and Stan, the Victorian Government and TEG Sport for their collaborative approach to this. We've worked hard to reach this outcome and provide a fitting platform to showcase the Buildcorp Super W Grand Final.
"This is a huge year for women's Rugby, with inbound Tests, the Pac 4 series and Rugby World Cup for our Wallaroos and a Commonwealth Games and Rugby World Cup for our Australian Women's Sevens, as well as the recent news Australia has been named preferred candidate to host Rugby World Cup 2029."
Tickets for the semi-final are available, with the hosts looking to replicate Saturday's 45-0 drubbing of the Reds at the same venue.
Attendance for the Grand Final has been included as part of day two tickets for Super Round, which will see the Blues play the Fijian Drua and the Hurricanes take on the Reds.
Both games will be live and ad-free on Stan Sport, with the Grand Final set to be shown on the 9 Network.
Super W Semi-Final
Waratahs vs Reds – Eric Tweedale Stadium, Thursday 14 April, Kick-Off: 6:00pm AEST
Super W Grand Final
Fijiana Drua vs Winner SF AAMI Park, Saturday 23 April, Kick-Off: 2:00pm AEST
SOURCE: RUGBY.COM.AU/PACNEWS
SOURCE: