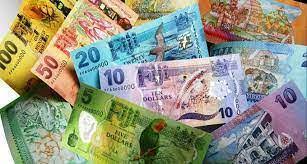 Fiji's debt is forecasted to surge to 88.6 percent of GDP in the 2022 financial year before subsiding to 85.3 percent in FY2023.
This was according to the Asian Development Outlook 2022 by the Asian Development Bank which stated the government had budgeted a higher fiscal deficit equal to 14.2 percent of GDP in FY2022 and a deficit only a third as large in FY2023.
"This necessitates significant fiscal consolidation notwithstanding uncertainty surrounding the pandemic and, as always, any future extreme weather events," stated the report.
"Revenue performance in the first half of FY2022 was on target, but less productive public outlays may still need to be reviewed.
"The current account deficit is projected to widen to equal 13.6 percent of GDP in 2022 on elevated prices for commodity imports and on high demand for goods and services that are inputs for tourism.
"While remittance income may counter the widening of the trade deficit, the current account in 2023 will depend as well on recovery in tourism earnings and global oil price movements."
The report highlighted Fiji's fiscal position had deteriorated as the pandemic unfolded and its tourism-dependent economy was forced to close its borders.
Revenue was said to have dropped substantially in 2020 and 2021, mainly reflecting contraction in tax revenue.
"As the Government rolls out its economic recovery plan, starting with the gradual resumption of tourism, rebuilding the country's fiscal position will ensure its sustainability under future weather or external shocks.
"The Government needs to adjust its fiscal stance to address persistent deficits that predate COVID-19."
The report also highlighted that according to the International Monetary Fund, the Government could lift revenue as a percentage of GDP by 4.3 percentage points from FY2023 to FY2026 by rationalising tax holidays, adjusting upward selected tax and excise rates, broadening the tax base, and improving revenue collection.
"Further significant deficit reduction could be achieved in the medium term by unwinding some pandemic-related tax relief measures.
"On the expenditure side, as economic activity picks up the Government can consider a measured phasing out of pandemic-response transfers, such as the unemployment assistance scheme, which would temper recurrent spending and narrow the deficit.
"New expenditure should be closely scrutinised alongside existing priorities, with reallocation favoured over higher aggregate expenditure," it stated.
Regarding debt, the report said a surge in contingent liabilities during the pandemic required close monitoring.
"While the Government has made important progress in reform to state-owned enterprises, a recent increase in sovereign guarantees held by some of them, particularly Fiji Airways and Fiji Development Bank, could pose fiscal risks, especially if recovery turns out to be slower than expected.
"The Government should plan responses to contingent liabilities that threaten to drain public funds, said the report.
SOURCE: FIJI TIMES/PACNEWS