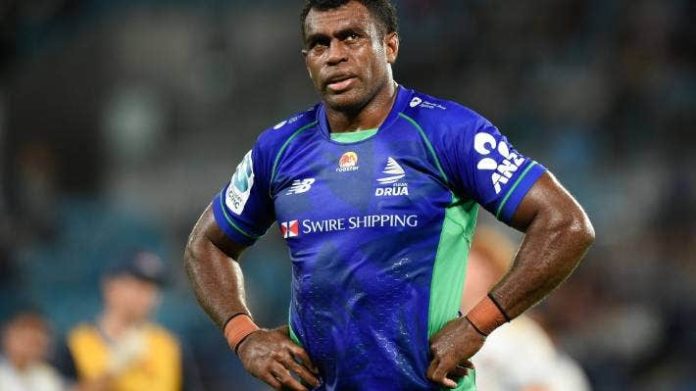 Fijian Drua captain Nemani Nagusa has been banned for four weeks after a red card for "a particuarly dangerous tackle'' against the Waratahs.
The Sanzaar foul play review committee accepted Nagusa's guilty plea for contravening a law preventing players from making early, late or dangerous tackles.
Nagusa, 33, has been suspended up to an including May 8 after his late and high shot on Waratah Tane Edmed.
He copped an extra week as a deterrent.
The incident occurred in the 26th minute of the match between the Fijian Drua and Waratahs on the Gold Coast last Friday.
Committee chairman Michael Herron QC said the red card was upheld after a detailed review of all camera angles and after written submissions from Nagusa and his legal representative.
"With respect to sanction the foul play review committee deemed the act of foul play merited a mid-range entry point of six weeks due to the World Rugby instructions that dictate any incident of foul play involving contact with the head must start at a mid-range level,'' Herron said in a statement.
"Taking into account mitigating factors including the player's good judicial record over a long career, his acceptance of foul play and his expressed remorse, the judicial committee reduced the suspension by three weeks."
The committee felt Nagusa's actions – "namely direct contact with the arm to the head/neck" – was "a particularly dangerous action that needs to receive a deterrent penalty".
"All players should be aware of this via World Rugby's head contact process and the need to remove this pattern of offending from the game.
As such, the committee "added an additional week as a deterrent to this conduct".
Nagusa was told he could apply for the head contact process coaching intervention process which allows a player to have the final week of their sanction substituted by undertaking a coaching intervention that specifically sees to correct the tackle-contact technique that caused or contributed to the foul play.
The intervention will be overseen by the World Rugby coaching intervention expert review panel – a panel of expert independent coaches – and is only be available to first time offenders, Herron said.
SOURCE: STUFF NZ SPORTS/PACNEWS