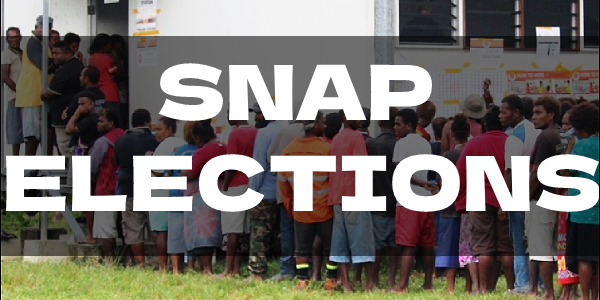 The Solomon Islands government is believed to have abandoned its plan to extend Parliament by another year, sources have revealed.
Instead, it has backed the idea of an early dissolution of Parliament – an option proposed by the Opposition, the sources said.
It is understood that public outcry against the proposed 12-month extension forced Prime Minister Manasseh Sogavare's government to take up the option for an early dissolution and election.
Discussions on the early dissolution of Parliament dominated Caucus meetings this week.
A formal statement outlining a range of pre-election activities, including when Parliament would be dissolved and when voter registration would begin is expected later this week after Caucus has finalised the details.
One hurdle being faced by the government in holding an early election is funding.
There are no provisions in the 2022 Appropriation Bill for the National General Election next year.
Only $17 million (US$2.1 million) is said to have been set aside for provincial elections in Choiseul and Western Provinces and a bye-election for the West Kwaio Constituency.
To hold an election costs in the vicinity of SBD$150 million(US$18 million) – a budget usually shared by the national government and donors. Of this amount, the national government is required to pick up SBD$90 million(US$11 million) while donors pick up the balance, according to those familiar with election funding costs.
Voter registration alone, which must start in July/August this year, costs around $50 million(US$6 million)
"The problem for the government is, there is nothing in terms of funding in the budget for an early election.
"I think all along the government thought it already had the extension of the four-year term to a five-year term in the bag. Now it is being caught in its own game.
"Financially, it is an impossible choice if they choose to go that direction. On the other hand it will not require any constitutional amendment and people will be happy about it," one source said.
In its fight to extend the life of Parliament by another 12 months, the government argued that the timing would be too close to the 2023 Pacific Games, which Solomon Islands is hosting.
Those who argued against the extension said the proximity of the two events – the 2023 Pacific Games and the National General Election, which by law is also due next year, is the reason for an early dissolution of Parliament so that a new government would oversee the completion of the Games itself.
Some 359, 690 people registered to vote in the last election, held on 3rd April 2019 – an increase of 72, 123 voters over the 2014 National General Election.
SOURCE: SOLOMON STAR/PACNEWS