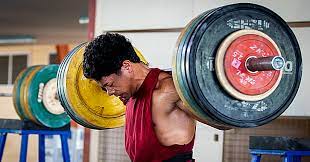 Samoa's weightlifting team is ready to compete in the Commonwealth Games later this year in Birmingham, United Kingdom with their coach confident of their medal potential.
The SWF President and Coach Tuaopepe Jerry Wallwork made the announcement in an interview with the Samoa Observer on Tuesday, saying the "dream team" is ready as they have qualified six weightlifters for Birmingham.
"The whole six that are qualified are all ranked in the top three in the Commonwealth, as a matter of fact three of them are ranked top two in the Commonwealth, and the other three are ranked in the top three," Tuaopepe said.
"So we have a very strong team, this is probably the strongest team we've taken to any Commonwealth Games and all we're doing now is training, preparing and hopefully May or June we will start to polish up, start to ease down for the competition."
Tuaopepe said he is confident with their preparations as some of his athletes are at their prime and ranked highly in the world.
"I am confident that we've done the preparation, I am confident that they are lifting weights now that are very highly ranked," the SWF President and Coach said.
"Some of them ranked in the world so what we need to do now is be careful with injuries, just maintain the course that we're doing and if we keep on the course and what we're doing I think we have a very good chance of everyone bringing home medals.
"So we have team of six all bringing medals which will be the first time in history, done by not only weightlifting but done by any sport in Samoa at the Commonwealth Games level."
In 2010 Samoa had won three gold medals at the Commonwealth Games held in New Delhi and followed that up with two at the Gold Coast Commonwealth Games in 2018.
Tuaopepe emphasised that the Commonwealth Games are important in the region and indicated that the team will depart for Birmingham on 15 July which gives them four months to prepare before competition.
"It's a good time to know where we are now, which we are sitting right up the top now and we still have four months of polishing up," he said.
Tuaopepe emphasised that they are trying to instil the "confidence and warrior attitude" in their team members prior to their departure for the UK.
Out of the six who will be competing in Birmingham, it will be the first Commonwealth Games for three of them.
"Not only will it be there first major [competition], but their coming up ranked at the top," he said. "So like Jack Opeloge it will be one of his first but he's ranked number one right now, same as his brother.
"He's the younger brother, he's coming up very fast.
"You have John Tafi, 18 year old, he's ranked number three in the Commonwealth and only been lifting for two years so to go to a Commonwealth Games level […] he's never been to any competitions overseas.
"So he started lifting just before COVID and now he's going to the Commonwealth and ranked.
"It's a dream team, but its a dream team that have to perform, not just a dream team on the platform, now we have to produce the results in the competition."
Tuaopepe also revealed that there are two teams training at the moment as the other team is going to the Pacific Mini Games which will be held in Northern Marianas in June this year with the other team going to the Commonwealth Games in July.
The SWF President and Coach is being assisted by Olympic Silver medalist Ele Opeloge in coaching the teams.
"The team is going well, we are very thankful to our sponsors, especially the Government of Samoa giving us this building to train, fantastic facility," he said. "Not only train, we can camp here, we got the facilities for cafeteria and our many other sponsors who are assisting us, [Samoa Association of Sports and National Olympic Committee], Pure Pacific Water, that's enabling us to keep training and camping because we've been in camp for the last six months, food is provided, everything is provided for us."
Tuaopepe reiterated that they are thankful for their sponsors standing behind them as that is how they are able to achieve the results that they achieved thus far.
"There's been a lot of issues lately on the training and methods, coaching and athletes going against coaches, that sort of rubbish which I think is the last thing we need when we're preparing a team," he said.
"When we're lifting from a country like this small Samoa, we don't have the finances, we don't have the backing, we need everybody to work together and we need something extraordinary and that's what we're trying to produce here, […]
"So that it could match the top countries in the world, the biggest countries in the world.
"Little Samoa has a weightlifting team that's feared in the world now […] because they fear our lifters, we have some very good lifters, we are probably the number one team in the Commonwealth.
"[I] just urge all our coaches and athletes to work together and the athletes to follow what the coaches are saying."
Don Opeloge told the Samoa Observer on Tuesday that he gives thanks to the Lord for the strengthen he has given them for their preparations.
"There is one medal we are going for and that is the gold medal, there is an opportunity to take the medal and compete in higher levels for a gold medal for Samoa," Opeloge said.
This will be his second Commonwealth Games, and he feels happy that he will be joined by his brother Jack.
Opeloge had also gave thanks to the support that he has received from his family, friends and his village and their sponsors.
In the sport, Opeloge said there has been a lot of development, especially for the young ones and explained that when he was young, he had brothers and sisters in higher positions in the sport, and he had challenged himself to be like them.
Gold Medalist at the 2018 Gold Coast Commonwealth Games, Feagaiga Stowers said she is happy and it is a blessing to be able to compete in Birmingham.
"I never thought I would come back and qualify for the Commonwealth," Stowers told the Samoa Observer. "I feel happy and thankful to the lord that I am able to be the female representative of our team, to carry the flag at the Commonwealth."
Asked is she feels confident, she said that she relies on the strength from the lord.
"My advice to the young girls, in this game you have to train honestly, and be obedient, also to the rile of the training," she said.
Stowers also thanked her sponsors, family and friends as well as their coach for their support to the team.
SOURCE: SAMOA OBSERVER/PACNEWS