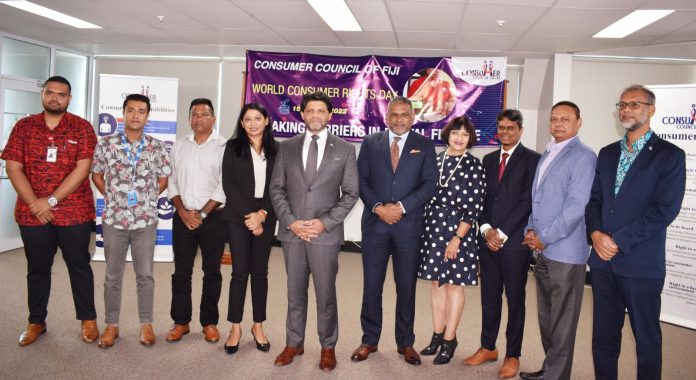 Fiji is a key facilitator of Digital Financial Services (DFS) in the Pacific, says Minister for Industry and Trade Faiyaz Koya.
Speaking during the World Consumer Rights Day in Suva, Koya placed special emphasis on fair digital finance and stated that consumers are a critical component of any economy.
"Throughout the pandemic, more people have adapted to getting their business online or handling day-to- day activities. This includes mobile payments by the Fijian Government and Fiji National Provident Fund, for disbursement of financial assistance.
"Fijian businesses also embraced e-commerce, online payments, quick response (QR) payments and mobile money to continue operating amidst the pandemic."
"Remittances through mobile money platforms in 2020, recorded a threefold increase to approximately $82.1 million (US$40.5 million) compared to 2019."
"When remittance comes in, particularly in rural and maritime areas, Fijians can buy their essentials from the local stores —thus circulating money in these communities and the local economy."
"It emerged as a critical avenue for getting financial support across to the people a lot easier. It helped maintain commercial operations despite lockdowns, or curfews."
Koya said that according to Consumer International, by 2024, digital banking consumers are expected to exceed 3.6 billion.
"In developing countries, digital transactions have grown to 70 percent in 2017, compared to 57 percent in 2014. That's a 13 percent growth in a matter of just 3 years."
"As individuals change how they spend, send, and save money. Effortlessly pay bills, transfer funds, and see their bank statements digitally using the means of a computer or mobile phone – increasing consumer choice and convenience."
Koya highlighted that whilst digital finance makes banking and payments convenient, there are risks associated, risks that marginalise a group of consumers more than it does others.
"Digital finance can increase the likelihood of the most vulnerable being left behind or face fraud. And this isn't uncommon."
"According to the Asian Development Bank, several Pacific Island Countries' financial sectors have struggled to adapt to digitalisation, with only 20 percent of individuals in these countries having access to a formal financial system for savings."
"In developing nations, such as ours, the expansion of digital financial services has given Fijians, particularly those with traditionally no access to a bank account, access to financial services for the first time. As of December 2020, of the 390,772 mobile money accounts registered, less than 50 percent (43.7% or 170,892) were active."
"But, with technology evolving expeditiously, consumers are still challenged in getting access to digital financial services squarely. What drives this concern is the possibility that mobile banking and associated technology is outpacing consumer protection procedures within financial services."
"Financial institutions have evolved and are increasingly digitising transactions to address pressing requirements such as paying for utilities, water, and electricity, or obtaining low-cost wages and social benefits. These opportunities were critical during the pandemic's peak in Fiji."
Meanwhile, a lot more fundamental issues surrounding fair digital finance need to be addressed, says Minister for Economy Aiyaz Sayed-Khaiyum.
Sayed-Khaiyum said in 2008, the Government actually liberalised the telecom sector which allowed more players to share their digital access to the people.
He said that with digital service, it has become easy for many Fijians to access Government's assistance through M-Paisa and My Cash.
"I think of course in order for people to have access to digital finance and the services we need to have people have access to the Internet and if people have access to mobile phone connectivity and this precisely what the government has been doing in the past number of years."
"Many of you are old enough to know that in Fiji before we only had one mobile phone which was exclusively in monopolistic positions to Vodafone, TFL and the monopolistic position."
"The pricing actually is now monitored by the Competition and Consumer Commission of Fiji and as a result of that we've now seen a huge decrease in the cost of telecommunications."
"Before the de-monopolisation unit cost of a mobile phone was priced about 99 cents a unit today's about 23 cents a unit. We now have 7 up, 10 up and free talk time etc."
"Now what that has meant is now today we have more SIM cards than actual people in Fiji."
"Some people have two cards and over 6,000 smartphones."
"The famous $360 (US$180) roll out of two rounds and two rounds of $50 (US$25), the one round of $90 (US$45) was all done on the digital platform. You made your applications within three minutes on a mobile phone and received your phone within minutes or seconds on your mobile phones."
He said there are advantages such as people don't have to queue up to receive the funds but they receive directly on their phone likewise there are some disadvantages also.
"It also means that people are able to access and purchase goods readily. Other hand, the issues of privacy issues about accessing information."
"Under the Fijian Constitution you guarantee you have a right to privacy. We saw in the disbursement of these funds that some people were using other people's personal details, using other people's tin numbers, using other people's details for example pertaining to age, birth date etc."
"So the issue of privacy is a key for an element in the digital space also. You may for example have Internet banking memo, you may have other forms of digital imbursements of our funds but we need to protect the privacy of those people and the information."
"Secondly, of course the Constitution also says that you have a right to have your correct information pertaining to you. Some people for example in the digital agency or platform have put wrong information. You have a right to have that changed and that is your Constitutional right to do so."
He added that there are still people in Fiji who do not have access to the Internet but the Government is reaching out to those areas.
"There are some parts for example in the maritime areas, in the deep rural areas, in the northern division- where access to internet has been very low."
"Today 95% of the Fijian population has access to mobile connectivity. So recently the government spent about 1.4 million dollars in the northern division. We were recently there with people who actually don't have access to internet banking but now have access."
"We have connected to schools and if there is a village or living area around the schools and the Wi-Fi at the school compound so people can actually come to school to connect to the Internet."
"We also have to ensure that there's no digital divide being created. Whilst the digital age is hanging a great equaliser, it can also be the greatest di-equaliser if we do not connect everybody to the digital space."
"So from a Government infrastructure perspective, Savusavu for example has now the cable laid from Savusavu to Labasa. So all those changes are actually taking place which means more and more people get access to the digital space," he said.
SOURCE: FIJI LIVE/PACNEWS