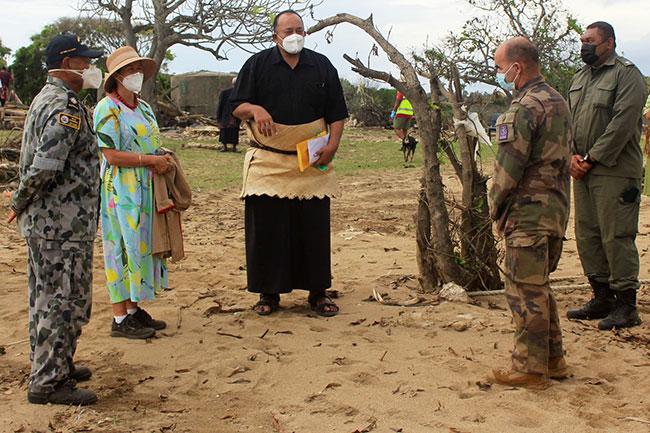 The disaster stricken island of Nomuka received a visit last Friday from Tongan Prime Minister Hu'akavameiliku Siaosi Sovaleni, who was flown to the island on Australian Defence Force Chinook helicopter with Australia's High Commissioner, Rachael Moore.
A statement from the Prime Minister's Office said that the PM met the people on the island and said that government will do all it can to help them return to normal life, following the devastation of the Hunga-Tonga-Hunga-Haapai volcano and tsunami on 15 January.
"We all went through the same during the recent volcanic eruptions, tsunami and communication breakdown. I am here to see for myself and to see what needs to be done and ensure no one is left behind."
The Australian High Commissioner said the Australian defence ship HMAS Canberra' was also there to help their community.
"The damage was devastating but, in a uniquely Tongan way, there were still laughs and a feeling of fierce determination," she said.
During the visit, the Nomuka people asked for an evacuation hall to be built at the highest point in the island, to house them should there be similar dangers in the future.
The PM said government would consider the request, while they were still in discussion with estate owners on the reconstruction of island communities, before reconstruction of damaged and severely damaged buildings begins.
Meanwhile, relief supplies to the island included a boat gifted from New Zealand and a tractor from the People's Republic of China.
The Ministry of Agriculture would also send tapioca and kumara leaves this week to assist farmers with their replanting. Water tanks will also be sent there.
SOURCE: TONGA WIRES/PACNEWS