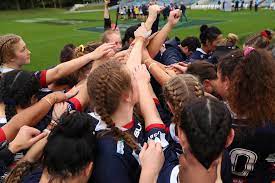 It's the mantra guiding the Melbourne Rebels as they begin their Super W season against the Fijiana Drua.
After a series of narrow losses in 2021, Alana Thomas and the Rebels are looking to convert their opportunities as they set out their legacy in Victoria.
This begins on Saturday March 5 at Endeavour Hills Rugby Club, their first home game in 726 days.
"It's exciting (to be playing at home) because the last game was in Feb/March 2020 so it's good to be home and playing some high-quality Rugby in Melbourne," Thomas said.
"Last year, everyone was excited to play rugby because of that year without it but this year it's more about being back in the normal home-and-away format with our first two rounds in Melbourne.
"Endeavour Hills has been our surrogate home on Saturdays so to be able to play there and show the support for the grassroots club (is great). To be then able to play the double-header at AAMI Park (next week against the Brumbies) and be in front of our family, friends and fans is massive.
"We've trained so hard since November and we've now got to the point so everyone is keen to get back out there and playing."
Captain Melanie Kawa is one of few within the squad that featured in their last home game – a 25-22 defeat to the Brumbies in Ballarat – and believes the side will relish the opportunity.
"That was a double-header against the Brumbies…that was a really close nailbiter and it always seems to be with the Brumbies," Kawa recalled.
"For a lot of the girls, this will be their first home game. A lot of them got their caps on the road last year. I think that's served them really well, it's built-in the expectations of what Super W is, a massive step up from club and park Rugby.
"The attention to starting to grow on women's Rugby in Australia and worldwide so to get that platform for people to watch high-level Women's Rugby, I think we're going to garner a lot of fans this year."
The Rebels enter 2022 after 'their best pre-season yet', void of any lockdown disruptions and cancelled trials.
They're well aware they will need to be at their best against Fijiana, who are bringing a near-full World Cup squad to Super W.
Both Thomas and Kawa are very familiar with the Fijians, with Thomas originally slated to join their coaching staff for the 2021 World Cup, whilst Kawa debuted against them for PNG in 2016.
"I think any Fijian Rugby side wants to play their style of Rugby, they want to play with that natural flair and instincts and everyone understands that," Thomas believes.
"For us, it's about playing a new opposition which is exciting and understanding that we can't try and stop them from playing that style of Rugby, I think if you try and stop them you then get it trouble, it's about focusing on what we need to do and focus on our gameplan.
"It's really cliche but we need to focus on what we need to do from a defensive and attacking point of view because if we can control the game and focus on our key areas, it's going to limit those opportunities to get us into position that will leave us vulnerable.
"I know coach Seni(rush Seruvakula) and the team are so pumped to be over here and they have been working since October 2020 in the build-up to the World Cup. This is an opportunity for them to see where they are and get some really good game time so it's going to be exciting.
"What you are looking at is the best players in Fiji and that's going to be their World Cup squad," Kawa added. "You relish those types of challenges against the best so I think all the girls in the squad will take that opportunity on and really appreciate that they have going."
The Rebels women's squad have felt the 'Burn City love' from across the organisation, working closely with their men's side.
This has allowed players to bounce ideas with the likes of Wallabies Reece Hodge and Cameron Orr whilst the coaches the access to all the top of the line gear at AAMI Park.
In a historic year for Women's Rugby in Australia, both captain and coach have already seen the benefits as they look to leave their legacy.
"It's essential…even before these amazing announcements which I'm so glad to have the support of the club and the vision they have for women's Rugby, we've always been doing those one-percenters because it takes so much commitment and effort to be a professional athlete," Kawa believes.
"We're so glad the club has brought us under the banner and it's defiantly served us well, being in that environment and seeing the men sit together in those micro-chats about their performances, we get to be involved and watch them do that.
"…There's that really good exchange of ideas, we have this 'Burn City love' ethos of living love at the club."
"It's been great to sit down and talk to someone like Nick Stiles, who has great experience across the board, about Rugby and to be able to have a passing chat with people like 'Footy' (Kevin Foote) has been great," Thomas notes.
"The club has made a real commitment to making sure that it's one club. Going in HQ and using the facilities, crossing over with the boys as you go, we've got access to the same view analysis, equipment, fields, it's been really good for the doors to be opened.
"People like Cam Orr have come down and helped out early in the pre-season before Christmas, 'Dicky' Hardwick wanted to do the same but obviously the Omicron variant we had to limit the crossover, they've been fantastic. Even someone like 'Hodgey' (Reece Hodge) helping with the off the field stuff and opening their doors to us has been fantastic.
"I'm really excited to see how we go this year but also for the club to be able to see how hard the girls work. We talk about living love but I think the girls are the epitome of love when it comes to selflessness and fighting, being prepared, they epitomise that in their life and I think the boys appreciate that which has been great."..
SOURCE: RUGBY.COM.AU/PACNEWS