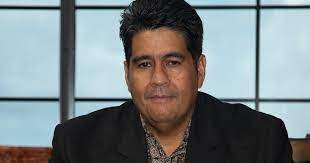 Palau's President Surangel Whipps Jr. urged senators to reconsider the passage of the proposed Digital Residency Identification bill, which earlier failed to get a majority of the votes in the Senate.
In his letter to Senate President Hokkons Baules, Whipps vowed to engage with the Olbiil Era Kelulau to consider amendments to the bill.
"I write to urge your consideration and passage of the digital residency bill. Digital Residency offers Palau an innovative diversification of our economy and will be regulated to ensure that Digital residency is offered in a secure and reputable manner," the president said in his letter.
The Senate held a special session this week, and in agenda was to reconsider the bill.
The bill was earlier defeated after six senators opposed the bill and five senators voted in favor of the bill, and one abstained, which counted as a "yes" vote under Senate rules.
In Whipps letter to the Senate President, he also highlighted that senators' approval would allow for "timely passage" of the initiative.
He promised that he would ensure that the proposed legislation would comply with best practices of the nation's Anti Money laundering and Counter-financing of terrorism law.
The bill was submitted to lawmakers by President Surangel Whipps on 02 November, 2021, saying that it would help diversify Palau's economy.
He urged quick action "as other nations are also jockeying to make a name in this market."
The bill would allow Palau to issue "digital residency identification" or a Palauan electronic ID to non-Palauans overseas, similar to the idea of the "elite visa" programme, without requiring that the person come to Palau.
It gives the bearer of an ID a legal identity as a resident of Palau without actually being a physical resident. The person with the ID will use it to open accounts, trade online, or conduct activities online that require identification.
The second major component of the bill was the establishment of "Cryptocurrency Exchange Licensing.
The licensing would allow Palau to approve companies that trade cryptocurrencies. It would also enable people to exchange dollars for cryptocurrencies.
According to the bill, a service provider will work with the Ministry of Finance to administer the digital residency program. Therefore, contracting a "service provider" would be exempted from the procurement requirements.
President Whipps said the cryptocurrency exchange licensure would not be implemented until a regulation is put in place.
He also vowed to work with the OEK to ensure that no single license issued until a robust regulatory framework for cryptocurrency exchange licensure is in place.
SOURCE: ISLAND TIMES/PACNEWS